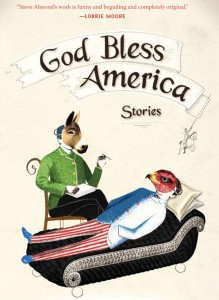 Our new feature is Steve Almond's most recent story collection, God Bless America, published last year by Lookout Books. Almond's books include three collections of short stories: My Life in Heavy Metal, The Evil BB Chow and Other Stories, God Bless America; three works of nonfiction: CandyFreak: A Journey Through the Chocolate Underbelly of America, (Not That You Asked), Rock and Roll Will Save Your Life; and three DIY books: Letters From People Who Hate Me, Bad Poetry and This Won't Take But a Minute, Honey. He lives outside of Boston with his wife and children.
Almond is equally well known for bucking corporate publishing methods, which is perhaps why he is so laudatory about his experience with Lookout Books. In Renée K. Nicholson's recent interview with Almond, he says this of his experience with the press and its editor, Ben George:
Editing, like writing, is an act of sustained attention. A good editor should articulate what they think you're trying to do with your work, where you're succeeding, and where you can do better. They should do this not just in larger ways (thematic, structural), but in their line edits. This hardly ever happens in corporate publishing. I was fortunate enough to have Ben George as an editor, and he went over every word I wrote and offered his best advice. After half a dozen edits, it was clear to me what a gift this was.
We're giving away a copy of God Bless America in two weeks to three of our Twitter followers. To be eligible for this giveaway (and all future ones), simply click over to Twitter and "follow" us (@fictionwriters).
To all of you who are already fans, thank you!
---
Further Reading