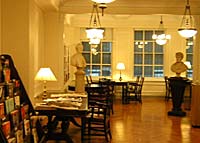 Fiction super-hero Ron Hogan (editor of Beatrice and senior editor of GalleyCat) and the Mercantile Library Center for Fiction have been in cahoots, and I am thrilled to announce that in just a few weeks, they will launch an exciting event: the first ever Center for Fiction Writers' Conference. This day-long symposium is specifically intended for writers who already have a finished book and an agent, but who want to learn more about how the publishing world works–and how best to navigate it. In this post on Buzz, Balls, and Hype, Ron Hogan blogs about why this conference is important for writers, and why he is personally and passionately invested in its success.
To answer your burning questions:
When is it? Saturday, June 27, from 9 AM to 6 PM.
Where is it located? At Fordham's Lincoln Center Campus. (Click here for directions.)
Who will be there? In addition to other fiction writers: publishers, editors, and publicists from houses big and small; literary agents; and a host of beloved authors (including Jami Attenberg, Stefan Merrill Block, Jennifer Weiner, and Ben Greenman).
What does it entail? Eight hours' worth of panels on useful topics like why book reviews matter, how to create your own buzz, what editors are looking for, and what happens after the book deal. Here's the full schedule.
What does it cost? $200. This is actually quite a steal, as anyone who attends the conference also earns one free month of writing space at the Merc Center's Writers' Studio on East 47th Street (a $130 value) and 10% off the first 3 months thereafter (a $40 value).
How do I register? Call 212.755.6710.