Lee just sent me this link (from DesignSponge) about We Are the Friction, a new book featuring stories by twenty-four authors and illustrations by twenty-four artists. But this is no typical collection: its contributors were paired up specifically to inspire work from each other…to illustrate a writer's story or put words to an artist's illustration. This is the second book project from UK-based Sing Statistics' co-editors (and contributors) Jez Burrows and Lizzy Stewart, who describe We Are the Friction as "an erratic, eclectic collection of work that takes in space travel, Japanese deities, monster husbandry, and the Marx Brothers. We hope you'll like it." (Their first project, I Am the Friction, featured ten stories by Jez and ten illustrations by Lizzy.)
Here are a few sneak peeks. The following illustration by Andrew Holder was inspired by Mark Hamilton's "How I Brought Hoof And Mouth To Canada":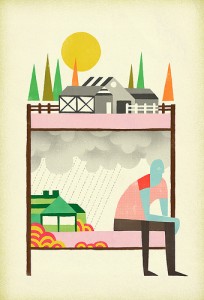 And this piece, by Jon Klassen, inspired Jez Burrows to write the story "Henry, Carl":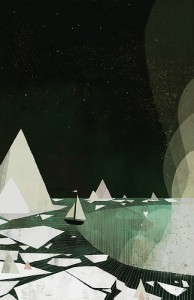 Visit Sing Statistics' Flickr page to see more illustrations from (and of) We are the Friction.
To read the stories, you'll have to buy a copy of the book. And be quick about it; there are only 1,000 copies!