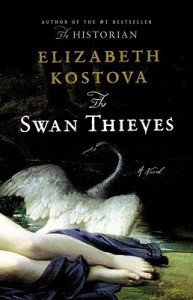 Elizabeth Kostova–author of The Historian, co-founder of the Sozopol Fiction Seminars in Bulgaria, and long-time supporter of FWR–will be reading from her new novel, The Swan Thieves, at three of our favorites bookstores over the next several days: Women & Children First in Chicago (Sunday, 10/24)), A Room of One's Own Bookstore in Madison (Monday, 10/25), and Boswell Book Company in Milwaukee (Tuesday, 10/26).
Kostova's new novel is centered on Andrew Marlow, a psychiatrist and amateur painter, who recounts one of the greatest challenges of his career: a patient named Robert Oliver. Oliver, a talented and influential painter, is delivered to Marlow's care after attacking a painting at the National Gallery of Art. Unwilling to speak to his doctor, Oliver spends his days in silence, painting a mysterious women over and over. Confounded by this reticence, and driven by both personal reasons and professional pride, Marlow allows himself to become obsessed with this particular case. And in an effort to uncover the mystery of Oliver's life and art, he embarks on a quest that will cross not only professional boundaries but also ones of place and time.
Like her previous book, which has now been translated into more than forty languages, The Swan Thieves is rich in history (in this case, the Impressionist Movement) and language. It is a wonderful portrayal of loyalty and obligation, as well as the many types of obsession that intersect with art.
Kostova is not only an avid supporter of independent bookstores, but also a great reader. So we hope that you'll join her at one of these events if you're in Chicago, Madison, or Milwaukee the next few days. Here's the schedule:
Sunday, October 24 at 4:30pm: Women & Children First in Chicago
Monday, October 25 at 6:30pm: A Room of One's Own in Madison
Tuesday, October 26 at 7pm: Boswell Book Company in Milwaukee
She'll also be at Zingerman's Roadhouse in Ann Arbor on Wednesday (10/27), hosting Vampire's Ball: A Fundraiser for Food Gatherer's. Food Gatherer's is a non-profit organization dedicated to helping eliminate hunger in Washtenaw county. Kostova helped found this charity event five years ago as a way to give back to her community. Zingerman's writes:
Every year, we've collaborated with Kostova on a "spooky" theme and a corresponding menu. With lots of help from Food Gatherer's we make this one fun fundraiser. We typically raise about $10,000 for Food Gatherers each year, which translates to about 26,000 meals that can be provided to hungry individuals. Please help us fight hunger where we live!

This year the theme is Day of the Dead with a traditional menu reflecting the Latin American holiday. Elizabeth Kostova will be reading from traditional Mexican literature and James Beard nominated Chef Alex Young will create the menu.
For more information on the event, or to make a reservation, please visit the Zingerman's Website.