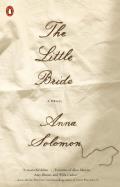 Debut novelist Anna Solomon writes us:
For the past six months, I've been working on an unusual and exciting collaboration with singer-songwriter Clare Burson: a literary-musical performance interweaving story, song, and projected images inspired by my novel, THE LITTLE BRIDE.

We call it A Little Suite for The Little Bride, and we'll be performing it at the Tenement Museum on Wednesday, September 7 to celebrate the book's birthday and kick off a great party.
The (free) performance will start at 6:30 PM at the Tenement Museum in NYC as part of the museum's Tenement Talks reading series. There will also be an encore performance at the JCC Manhattan on Thursday, September 22.
---
Further reading:
Learn more about Solomon and her novel at her author website.
Watch the video for The Little Bride: