Hello again, FWR friends. Welcome to the latest installment of our "First Looks" series, which highlights soon-to-be released books that have piqued my interest as a reader-who-writes. We publish "First Looks" here on the FWR blog around the 15th of each month, and as always, I'd love to hear your comments and your recommendations of forthcoming titles. Please drop me a line anytime: erika(at)fictionwritersreview(dot)com, and thanks in advance.
---
Within the next few weeks, two debut novels with military connections will be published, one set within the context of the Iraq War and the other bonded to Afghanistan. Another commonality: Both are being released as affordable trade paperback originals.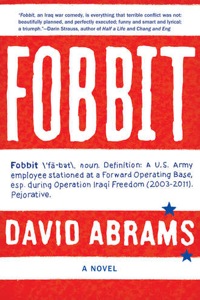 Currently retired from the U.S. Army, David Abrams, a former Department of Defense Military Journalist of the Year, deployed to Baghdad in 2005; Fobbit grew from the journal he maintained while serving there. Like many others, I discovered David Abrams—and learned about his service in Iraq—through Dan Wickett and the Emerging Writers Network. Later, I became an enthusiast of David's superb (and generous) work featuring other writers on The Quivering Pen (disclosure: David has championed my own collection, Quiet Americans). I was thrilled to hear that David's own debut novel had been bought by Grove/Atlantic and equally delighted when the prepub reviews came in (yes, they glowed). I pounced on the opportunity to read an e-galley of the novel. You might not expect an Iraq War novel to be funny, but I laughed—more than once—as I read this one. I cringed, too. There's simply so much to this book. It's a privilege to be able to recommend it here.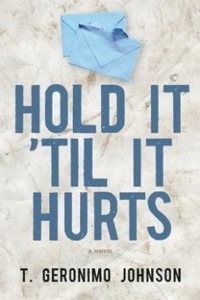 I haven't yet managed to acquire a copy of T. Geronimo Johnson's Hold It 'Til It Hurts, coming from Coffee House Press, but what I've read about it intrigues me, right from the names of the two brothers at its heart: Achilles and Troy. As if issues of war, race, and family aren't enough—these characters are (black) brothers who return from serving in Afghanistan after their (white) adoptive father's death only to learn more about their birth parents—Hurricane Katrina is apparently part of this story, too. I'm eager to see how Johnson, a New Orleans native whose c.v. includes the Iowa Writers' Workshop and the Stegner Fellowship—handles all of these issues. NB: If you buy the book through a link on this page, you'll be making a donation to a veterans affairs association.
---
Further Resources
An excerpt from Hold It 'Til It Hurts, by T. Geronimo Johnson