Hello again, FWR friends. Welcome to the latest installment of "First Looks," which highlights soon-to-be released books that have piqued our interest as readers-who-write. We publish "First Looks" here on the FWR blog around the 15th of each month, and as always, we'd love to hear your comments and your recommendations of forthcoming titles. For the last year it's been our honor to have Erika Dreifus, who inaugurated the series, oversee this project. But in 2013 we'll be opening it up to the editorial staff. So please drop us a line with buzz-worthy titles you're anticipating: editors(at)fictionwritersreview(dot)com. Thanks in advance!
---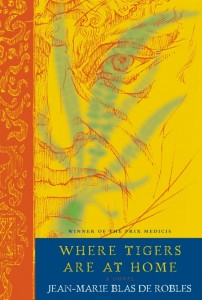 I've been a big fan of Other Press for years. A publishing house that has particularly good taste in international literature and literature in translation (among other things), I'm been consistently impressed by the range and depth of their titles. One of their March releases that looks exceptionally good will be Jean-Marie Blas de Robles's novel Where Tigers Are at Home. Translated from the French by Mike Mitchell, and originally published by Editions Zulma in Paris in 2008, this book was the Winner of the Prix Médicis and was shortlisted for the Goncourt Prize and the European Book Award. Since publication, it's been translated into fourteen languages. But it's just hitting U.S. soil now.
If you like novels described as "epic" or "encyclopedic," which I do (unlike David Shields or Elizabeth Cooperman), then this looks like a good bet. At 800+ pages, I'd say its fighting weight is on par with Murakami's 1Q84. The publisher describes it as "a multifaceted literary novel that traces the Jesuit scholar Athanasius Kircher across 17th century Europe and Eleazard von Wogau, a retired French correspondent, through modern Brazil." French critic Patrick Grainsville describes it as "Umberto Eco revised by Malcolm Lowry for Indiana Jones." What would that be: War of the Roses Under the Volcano and the Temple of Doom? Either way, count me in.
---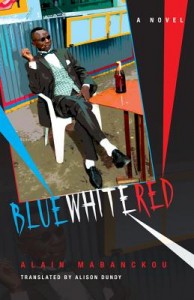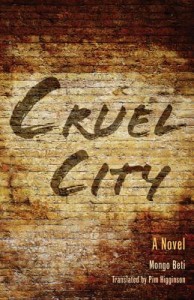 Also out next month, and also translated from the French (to stick with this post's theme), are two novels that are a part of Indiana University Press's Global African Voices series: Blue White Red, by Alain Mabanckou (translated by Alison Dundy), and Cruel City, by Mongo Beti (translated by Pim Higginson). The series focuses mostly on translations of new work by African authors and authors of African descent, but also reissues classics that are currently out-of-print or haven't yet reached an English-speaking audience. Blue White Red, winner of the Grand Prix Litrréraire de l'Afrique Noire was originally published in 1998 by Présence Afrique. The publisher calls the book "a novel of postcolonial Africa where young people born into poverty dream of making it big in the cities of their former colonial masters. [This] searing commentary on the lives of Africans in France is cut with the parody of African villagers who boast of a son in the country of Digol."
Cruel City was written under the pseudonym Eza Boto in 1954, before Mongo Beti gained notoriety with the publication of The Poor Christ of Bomba. The publisher calls the the novel:
The story of a young man's attempt to cope with capitalism and the rapid urbanization of his country. Banda, the protagonist, sets off to sell the year's cocoa harvest to earn the bride price for the woman he has chosen to wed. Due to a series of misfortunes, Banda loses both his crop and his bride to be. Making his way to the city, Banda is witness to a changing Africa, and as his journey progresses, the novel mirrors these changes in its style and language.
---
Cheers to both Other Press and Indiana University Press for bringing these books to U.S. readers.