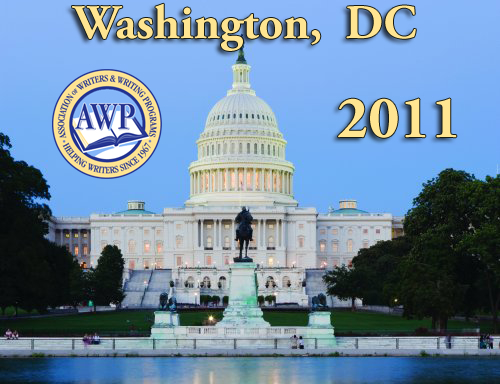 It's here – AWP 2011! If you'll be in D.C. for the conference, please come see Fiction Writers Review at Table B-18 in the bookfair.
Quick reminder: our Editor, Jeremiah Chamberlin will be moderating a panel on criticism, we'll have two book signings at our table, and a number of our contributors are featured speakers this year. Here again, are some highlights:
Friday, February 4
9 am:"The Good Review: Criticism in the Age of Book Blogs and Amazon.com"
Panelists: Jeremiah Chamberlin, moderator; Charles Baxter; Stacey D'Erasmo; Gemma Sieff; Keith Taylor.

This panel examines how criticism is changing in a literary landscape increasingly dominated by new media. In this era, who is a critic? What is a good review? Whom does it serve? And what is the impact of criticism on literature and culture? Editors of both online and print publications join writers of fiction, poetry, and criticism to address these questions, as well as to discuss how books get reviewed and by whom, why vigorous reviewing is necessary, and ways to write reviews that matter.
Book Signings at FWR Table (B18):
2 pm: Erika Dreifus – Quiet Americans (Last Light Studio)
3 pm: Alison Espach – The Adults (Scribner)
And don't miss these panels featuring FWR Contributors:
Thursday, February 3
1:30 pm: Stephanie Vanderslice on "What Do Writers Do All Day?: Articulating Our Work in the Profession."
3:00 pm: Erika Dreifus on "Beyond Bagels and Lox: Jewish-American Fiction in the 21st Century"
4:30 pm: Mary Stewart Atwell and Dean Bakopoulos on "Creative Writing and the University: A Conversation with Mark McGurl"
Friday, February 4
1:30 pm: Margaret Lazarus Dean on "Politics in the Novel"
4:30 pm: Laura Valeri on "Research in the Creative Writing Classroom: Methods, Pedagogies, Dilemmas"
Saturday, February 5
10:30 am: Erika Dreifus on "Finding and Creating Online Teaching Opportunities—and Sustaining and Succeeding in Them"
1:30 pm: Stephanie Vanderslice on "Getting to the Core: Creative Writing as a Core Requirement in College Curricula"
4:30 pm: Margaret Lazarus Dean, Liam Callanan, and Valerie Laken on "Beyond the Workshop: Revising, Revamping, Rejecting the Workshop Model"