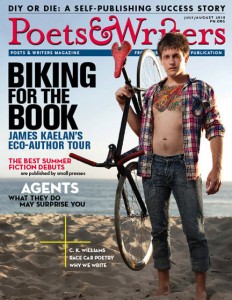 The July/August issue of Poets & Writers hit the newsstands earlier this week, and among the current features is the latest installment of FWR Associate Editor Jeremiah Chamberlin's Inside Indie Bookstores series. Joining the ranks of previously featured stores like Square Books (Oxford, MS), Powell's Books (Portland, OR), and Women & Children First (Chicago, IL) is Boswell Book Company (Milwaukee, WI). Jeremiah spoke with Boswell owner Daniel Goldin–who worked as the book buyer for Harry W. Schwartz Bookshops for nearly two decades before that illustrious store went out of business in 2009–about why he chose to open his own shop not only in this current economic climate, but also in the very same space that Schwartz had once occupied.
The good news is that Goldin's plan seems to be working–in April the store celebrated their one-year anniversary. And with the support of their community and loyal readers we hope it will continue to thrive. Like many of the best independent shops, Boswell hosts many wonderful events. Goldin also writes one of our favorite bookseller blogs: Boswell and Books. Follow his daily posts about all things literary–conversations with editors, musings on cover art, favorite book recommendations, and updates on the store. You can also read the book blog of the staff of Boswell Book Company: The Boswellians.
In their interview, Goldin discusses numerous aspects of the book business. In particular, he talks about why Schwartz wasn't able to keep their doors open after 82 years of business, how booksellers communicate with one other to promote the books they love, and how digital books will and won't affect the future of publishing.
Here is an excerpt from their conversation:
What is the most exciting part of bookselling for you?
I have to say, focusing on a book you really love and think that other people will love is really cool. My favorite book of 2008 was Wrack and Ruin by Don Lee. I loved the book, but it was so hard to sell in hardcover. It's still a slightly difficult book to sell in paperback, but I'm thrilled every time we do. I want to take the books I really love—that are offbeat—and make a difference with them. It's a little harder now because I have too few booksellers on my staff to be reading broadly. But I love discovering a book that two or three people liked, especially when, say, this person reads this way [points to the left] and that person reads that way [points to the right].

Yet they both liked the same book.
Exactly. In the Woods by Tana French is a great example. We were one of its top sellers. It was on the best-seller list for about a year in paperback, but in hardcover there were only about five stores selling it. And the thing that was so cool was that mystery people liked it and fiction people liked it. I always look for things that are "high" and "middle."
You can read the extended version of Jeremiah's interview with Daniel Goldin on the Poets & Writers website, as well as watch a slideshow of photographs from the store. Each of the previous installments of his Inside Indie Bookstore series are also available at the P & W website.
In addition to this profile of Boswell Book Company, the current issue features an interview with legendary poet C.K. Williams, the tenth-annual debut-fiction roundup published by independent presses, a special segment on agents, and the second installment of Steve Almond's odyssey into self-publishing. We're also happy to report that the Poets & Writers' special subscription offer to Fiction Writers Review readers (only $12 for a year-long subscription) is still up for grabs. If you order through this page before July 15, you'll get the current issue featuring Boswell Book Company. Regardless of when you order, a subscription will show support for writers and independent bookstores everywhere.