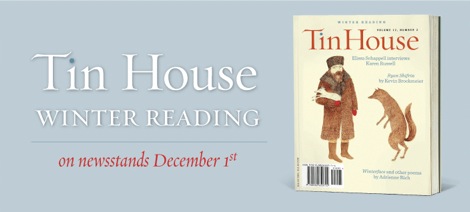 The founders of Tin House – magazine, book publisher, workshop destination – put their mission best, so I won't try to improve upon it:
The first issue of Tin House magazine arrived in the spring of 1999, the singular lovechild of an eclectic literary journal and a beautiful glossy magazine. Publisher Win McCormack said of the effort, "I wanted to create a literary magazine for the many passionate readers who are not necessarily literary academics or publishing professionals."
From their latest issue (pictured above), which fills me with a tinge of nostalgia (did anyone else think of Jan Brett's wonderfully illustrated kid's book – The Mitten?) and just the right amount of foreboding (exactly what is fox about to do?), to their gorgeous website, Tin House gets their aesthetic just right.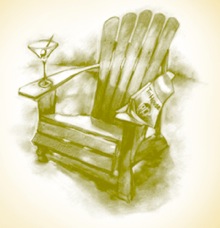 I mean, who wouldn't want to attend a Summer Writing Workshop whose faculty included Aimee Bender, Benjamin Percy, Dorothy Allison, Lan Samantha Chang, Jim Shepard, and many other great writers, but also billed itself as "Metaphors & Martinis"? You had me at … ahem … metaphor.
You can read lots of great content – stories, essay, criticism, poetry – on the Tin House site, they always offer a few pieces from the quarterly online, but to really get the goods – subscribe! Their oft-updated blog is also a witty, and frequently hilarious, read. Monday's post had me chortling at my computer, "Some Nobel Prize Winners In Literature Make Scandalous Headlines In Intellectual Gossip Rag." Look forward to such gems as:
Orhan Pamuk Dog-Ears Rare First Edition Of Madam Bovary

J.M. Coetzee Admits The J.M. Is There Only Because It Looks "Literary"

Imre Kertesz Makes Hungary/Hungry Pun Outside of Topeka IHOP

Seamus Heaney Tells Undergraduates: "Yeats Is Actually Better Translated Into Spanish"

Toni Morrison's First Draft Of Jazz Allegedly Influenced By "They Might Be Giants"
There's much more where that came from. Check it out at tinhouse.com – Enjoy!