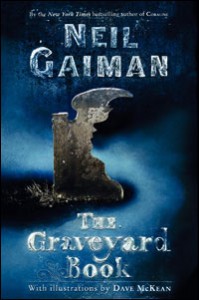 I'd already planned to curl up with Neil Gaiman's The Graveyard Book and get into the mood.
And things, it appears, are getting better all the time. The author's 9-city video tour concluded on October 9, and now, as I read, I can go here to watch and listen to Gaiman — in a fetching leather jacket, no less — read the entire book to me.
To learn more about the much-acclaimed The Graveyard Book, listen to this episode of All Things Considered. The NPR page also features a review by Laurel Maury, some of the book's haunting artwork, an excerpt, and an interview with the author–as well as a photo of him in bee-keeping gear, harvesting honey. To hear first-hand what Gaiman is up to, spend some time on his blog.
Trailer for The Graveyard Book: