Join me tomorrow night at Barnes & Noble in Tribeca (97 Warren St. @ Greenwich St.) at 7 PM to hear Pushcart- and Hopwood-prize-winning Nami Mun read from her debut novel, Miles From Nowhere. And look for an interview (soon!) with Nami on FWR.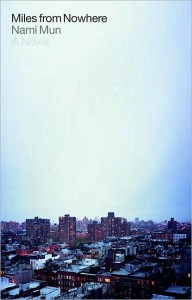 Miles from Nowhere began as a collection of linked stories (two of which I had the pleasure to read in workshop at Michigan, and several of which have been published in prestigious lit journals). As a novel, it holds together beautifully; Miles remains episodic, but breaks between chapters feel hauntingly like lost years–perfect for this particular story. Set mostly in New York City in the 1980s, the book follows a Korean girl named Joon, a teenage runaway who struggles–from homeless shelters to the street, from prostitution and addiction to Avon sales–to find her way back to a sense of home and self. Nami's prose complements her book's tone: stark and clean, it gives way to bursts of well-earned, saved-up beauty.
For readers beyond New York, here is Nami's book tour schedule.