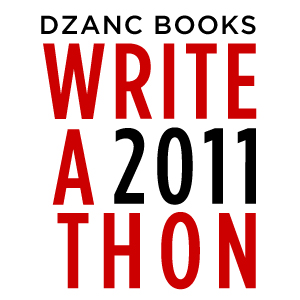 Each year Dzanc Books hosts a Write-a-Thon to raise money for their charitable endeavors–The Dzanc Prize, the Dzanc Writer-in-Residence Program, Dzanc Day, and numerous other service-oriented endeavors that put writers in communities and classrooms around the country. This year's Write-a-Thon starts today and runs through Sunday.
Though there's still time to participate!
Sponsor a Writer
The easiest way to support Dzanc is to sponsor one of the participating authors, a line-up that includes such writers as Laura Van Den Berg, Matt Bell, Eugene Cross, Kellie Wells, and Brian Sousa. Click here for the complete list.
Donate
No donation is too small. And because Dzanc is a 501(c)3 non-profit, your donations are tax-deductible (to the to legal limits applicable). However, Dzanc will also be offering several incentives to individuals who donate, whether via sponsoring a writer or donating directly:
Your choice of one of the following e-books as a "Thank You": Kamby Bolongo Mean River, Asunder, The Iron Will of Shoeshine Cats, Based on a True Story, Temporary People, or The Consequence of Skating. (All of Dzanc eBooks work on Kindle, Nook, PC/Mac, and all other reading devices.)
In addition, anybody donating over $100 will receive a one-year membership in Dzanc's eBook Club (a $55 value), as a further token of their appreciation.
Everyone who donates will also be entered in a random drawing after the Write-a-Thon is over, with one lucky winner receiving a full run of Dzanc titles, from All Over (2007) through No Near Exit (2011).
Finally, each day Dzanc will also give both the author raising the most funds and the person donating the most money during the 24-hour period (ending at midnight EST) their choice of a free eBook from their catalog.
Participate
It's not too late to participate yourself! If you're a writer and would like to participate in the 2011 Write-A-Thon, please let Dan Wickett know and he'll get your information listed on their website. Write: dan [at] dzancbooks.org.
In addition to the donor rewards, Dzanc is also offering several, targeted donation raising goals for participants:
All writers raising $500 will receive three Dzanc titles of their choice.
All writers raising $1,000 will receive six Dzanc titles of their choice.
The author that raises the most money will receive a full run of Dzanc titles, from All Over (2007) through No Near Exit (2011).
The first five authors to raise $750 will each receive a free membership to the Dzanc Books eBooks Club.
If you have any questions, please feel to email event organizer Dan Wickett: dan [at] dzancbooks.org.