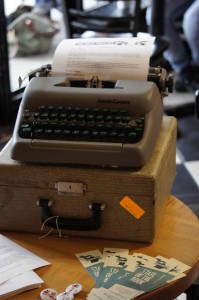 Day One of The Great Write Off dawned cool and foggy here in Ann Arbor. My wife and I had had to turn the furnace on for the first time this weekend, and the leaves have already started to turn on our block. For the past week the students in my Michigan Lit course here at the University of Michigan have been reading Charles Baxter's Feast of Love, in anticipation of his arrival for Saturday's The State of the Book symposium. And we've been talking a lot about the Midwest and weather. (After all, who captures the subtlety of Michigan seasons better than Baxter?) So maybe I'm just particularly attuned to climate these days, but I swear when I stepped outside I could taste that first bite of winter in the air.
But There's One Good Thing about a Cold Fall Morning in Michigan: It's perfect weather for a write-a-thon. And for coffee! And for Washtenaw Dairy donuts!
By 7:30am I had arrived at Espresso Royale on State Street and had begun setting up for the event. Espresso has not only generously agreed to donate coffee for anyone who joins us these three days, but they've also given us the entire front of the store–just to write. For weeks now the students in the Undergraduate English Association (UEA) and the Undergraduate Research Opportunity Program (UROP), along with the editors of our school literary journals–Xylem and Fortnight–have been flyering campus with posters that read, "Writers Taking Over Espresso Royale!" They've been pushing our pins and bookmarks and posters on everyone they can find. They've been cajoling their friends to participate.
Still, I couldn't help but wonder in the cold, dark of morning: "Will they come? Will coffee and donuts be enough?" Because, after all, what does it mean to write together? What does it mean to turn that solitary act we all practice into a communal one?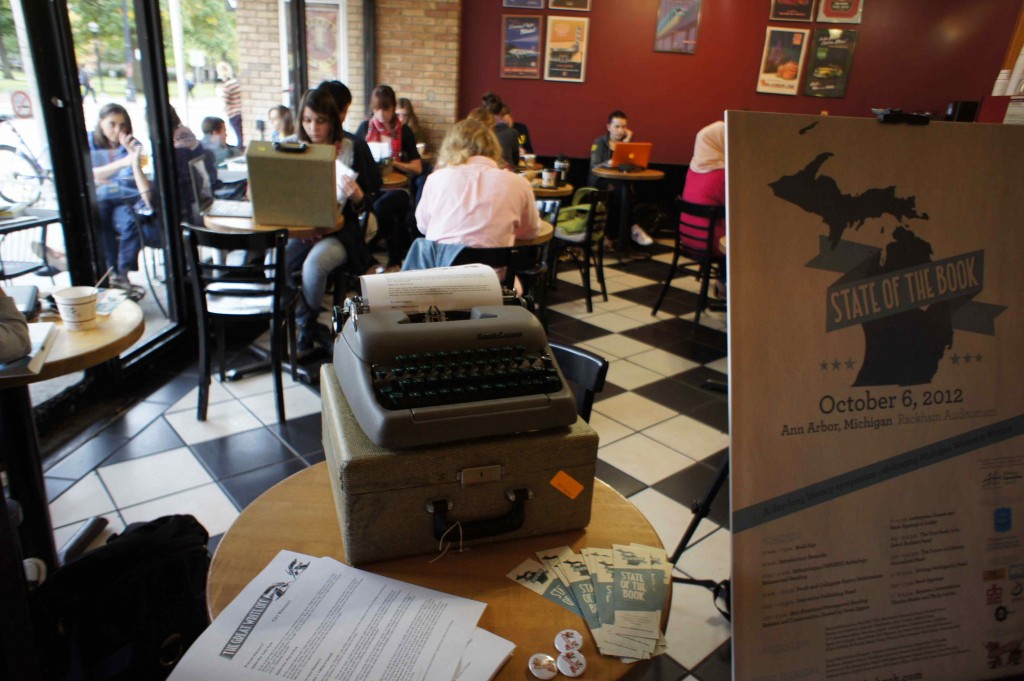 I soon found out. By 8am the first student had arrived, a bit shy, and she took a table near mine. Then one of our MFA students in poetry strolled through the door. Then another undergrad. And then another. By 9am, my friends, I am proud to say that writers had filled the place!
There was a giddiness, an eagerness, and something like pride at being involved. People in line for their morning coffee asked, "What is this?" "A write-a-thon," I declared. "These students are writing." How do I describe this? Well, let's say it was like a quiet, well-behaved flash mob.
By mid-afternoon, however, a fleet of old Underwoods, Smith Coronas, and Royals had arrived, courtesy of Meghan Forbes, the editor of the all-typewritten literary journal Harlequin Creature. And soon the room was filled with not only the sound of coffee brewing and milk steaming, but fingers clattering on keyboards. Real, old fashioned letters striking real, old fashioned paper. Writers sat at tables typing away, or sometimes they wrote in pairs. I'm a bit of a sentimentalist, sure. But it was a lovely thing.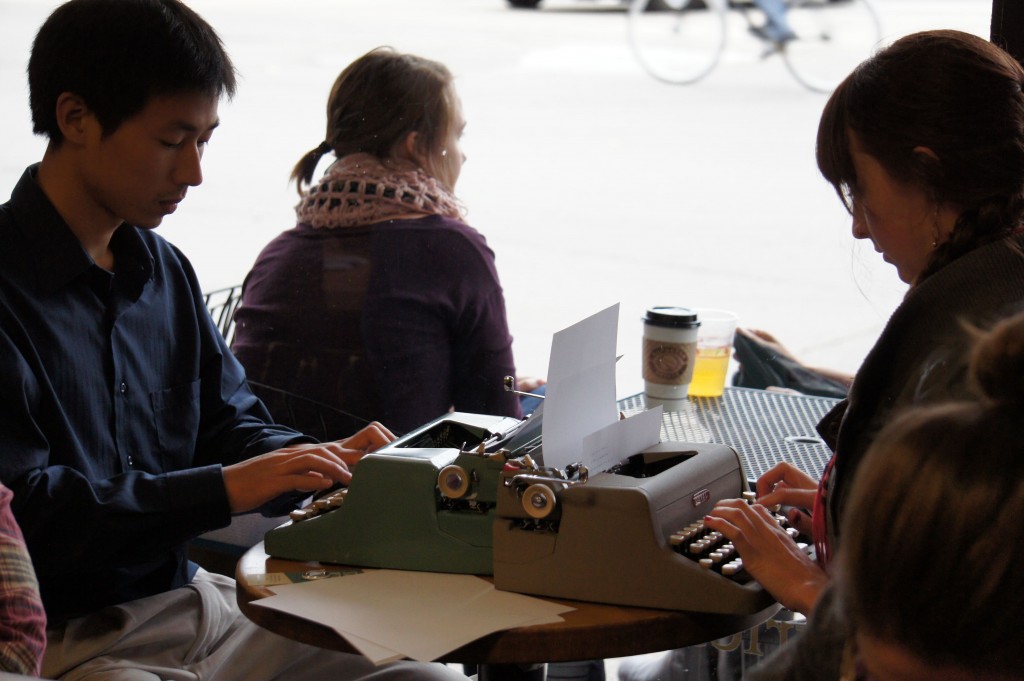 By the end of the day, once we'd packed up our bookmarks and our typewriters and our signs, more than 30 writers had shown up to join us. And many say they'll be back tomorrow. If you're in Ann Arbor, we hope you'll join us Thursday and Friday! The typewriters will be back, too.
Parting Notes:
Regardless of where you're living, you can still get in on The Great Write Off. To participate on one of our FWR teams or to sponsor a writer, just click here. As you'll see, the "Cornbread and Collards" team of southern writers has recently nudged "The Sozopol Fiction Seminars" team out of first place. But Eastern Europeans don't take too kindly to being unseated. So I'd expect a renewed vigor on their behalf! That said, both these teams should probably keep an eye on upstart "West Coast Guild (and Super Friends)," which has made up some big ground in a short amount of time. Though some might question the unorthodox incentives offered by their team captain…Check out all the FWR teams here.
In a more serious vein, we'd like to sincerely thank Espresso Royale for generously donating drinks and space these three days, as well as for their sponsorship of The State of the Book. You have our thanks!
Likewise, big thanks to Meaghan and Harlequin Creature for those fabulous typewriters.