Dear Friends,
'Tis the season for holiday wishes. So we're writing today with the hope that you'll help us keep the digital lights on for another year.
From now until December 21st, we're running our "One FWR, One Team" campaign. For the past two years, we've hosted a write-a-thon and had teams of writers come together in friendly competition to raise money on our behalf. But this year we wanted to do something different. More importantly, we wanted to underscore how much we think of FWR as a literary family.
Since launching six years ago, we've done our best to provide a public forum for conversations about the craft of fiction, literature, and the writing life. And though our small book blog has grown into a thriving organization with partnerships across the literary landscape, we still need your help to continue our work! So we hope you'll support us.
There are plenty of ways to participate: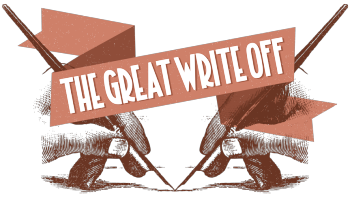 1. Join the team any time between now and December 21st to help us raise money, as many of you have in the past.
2. Make a donation on behalf of a specific participant.
3. Make a donation to FWR as a whole with "The Editors Fund."
4. If you'd prefer not to use a credit card, you can donate via PayPal.
5. And if you'd prefer the epistolary model, here is our mailing address for checks to support the work we're doing.
Fiction Writers Review
520 Center Drive
Ann Arbor, MI 48103
As always, every donation–no matter how small–is appreciated. Truly. Even if all you can afford to give is the price of a drink, we'd be humbly grateful and raise a digital glass on your behalf.
We're also a 501(c)(3) non-profit organization, so your donation is tax-deductible.
Thanks for your continued support. With your help, we'll continue to suspend our disbelief for another year.
-The Editors