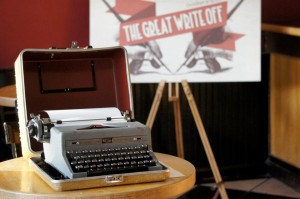 Dear Friends,
We're excited to announce that the 2013 Great Write Off is underway! For the next week (9/23 – 9/30) we'll be participating in our second annual write-a-thon fundraiser, in collaboration with four other literary non-profits: 826michigan, Dzanc Books, the National Writers Series, and the Neutral Zone.
Last year FWR and its partner organizations raised nearly $30,000 during our inaugural fundraiser to support the work these literary non-profit organizations do to help nurture the next generation of writers. And we hope to exceed those number this year!
Last year the money we raised from the Great Write Off allowed us to do some great things:
(1)    Pay our operational expenses
(2)    Cover the costs associated with becoming a non-profit
(3)    Fund and launch last year's write-a-thon
(4)    Put a down-payment on a much needed site redesign
On that last item, we're happy to announce that we spent a big part of the summer working with an amazing Web design company on the new site, and last week we got a sneak peek at the almost-finished results. The site is, in a word, spectacular!! Be ready for a complete overhaul, friends. FWR 2.0 will run responsive on mobile, tablets, and web, unique to each and every screen that accesses the content. Plus lots of new features and amazing infrastructure to take us into the next five years.
What's our goal for this year, then?
In addition to being able to pay the designers to actually finish our new Website and to cover the costs associated with running the site, we also hope that the money we raise this year will allows us to begin actually paying the editors and writers. And we couldn't do it without you.

There are three ways you can help:
1. Sign Up to Write: (You can start a team or join one). The process is simple, easy, and fast. Also, there are no registration fees. Once you're signed up, reach out to friends and family for support. Our custom system even allows you to send emails from your participant page with pre-packaged links.
2. Donate: Not everyone can commit to writing, but we hope you'll consider sponsoring one of the participants – to all who already have, A HUGE THANK YOU!
3. Spread the Word about our Teams: Help us get the word out via Facebook, Twitter, your blogs, word-of-mouth, and encourage friends to join one of the FWR teams. All our open and seeking participants!
Also, Prizes!!
1.) Anyone who raises at least $50 will get a cool GWO t-shirt printed on American Apparel shirts.
2.) Anyone who raises at least $100 will be entered in a raffle for a chance to win:
1 of 12 copies of The Office of Mercy, by Ariel Djanikian
1 of 12 copies of Men We Reaped, by Jesmyn Ward
1 of 12 digital subscriptions to Midwestern Gothic

1 of 5 copies of issue 3.5 of Harlequin Creature, a special issue dedicated to the graphic short, featuring the work of illustrators Jade Fusco & Alix Pentecost Farren
1 of 5 fifty-dollar gift certificates from Literati Bookstore, which can be used either in the store or on their website
1 of 5 copies of a custom, letter-press edition of Carloyn Forche's famous poem "The Colonel," which Fritz Swanson will be designing and printing
3.) The top five fundraisers will also automatically receive a copy of this Letterpress edition.
Plus there's the prize of writing during those three days. And, as we all know, writing is its own reward (often out of necessity, but that's another matter).
Thanks to all who joined us last year! We hope you'll once again participate and help us by soliciting friends, family, colleagues, even that person you met once at a book group—anyone who might help support FWR. Every donation counts. Even the $3 from Aunt Hattie. We've got some big goals thrown down, and small donations of any amount really add up!
With great excitement,
The Editors