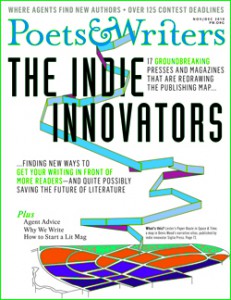 Here at Fiction Writers Review, we're big fans of the work that nonprofit publisher Dzanc Books has done in the past four years to publish, promote and generally champion writers who "don't fit neatly into the marketing niches of for-profit presses." FWR's own Jeremiah Chamberlin has a terrific piece on Poets & Writers website about the origins of Dzanc, and the Emerging Writers Network, started by Dzanc co-founder Dan Wickett:
[The Emerging Writers Network's] mission, like the goal of those very first reviews, was—and still is—to help develop a larger audience for emerging writers and established writers deserving wider recognition. And for the last seven years it has done just that. In addition to those 2,800 members who receive a newsletter now rather than e-mails from Dan, the Web site averages six thousand visitors per month.
Dzanc founders Wickett and Steven Gillis saw a need in the literary marketplace and took action to meet it. The fascinating history behind Dzanc reveals a passion for community shared by both Wickett and Gillis. When asked about why he helped open a branch of the 826 Valencia writing centers in Ann Arbor – and funded it out of his own pocket – Gillis replies:
There's really no purpose in life except helping other people. That's the bottom line. I mean, there really isn't. That's how I look at it. I don't understand when people don't think that way.
Chamberlin writes, "In the last four years Dzanc (or its imprints) have published
fifty-two books and five chapbooks, most of which are literary fiction, and many of which are award-winning titles. Those imprints themselves are a wonderful testament to Dzanc's mission to promote literature." Read the full article here for more insight into how two men with a dream in Ann Arbor launched what Publisher's Weekly has touted as "the future of publishing."