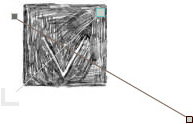 In homage to the conversation about teaching creative writing in 21st century that we published last week, I'd like to highlight something a little different to jolt your creativity this Thursday morning. Vectors: A Journal of Culture and Technology in a Dynamic Vernacular. I first heard of it via Anna Leahy's shout out in Part 2 of the aforementioned essay, "Where Are We Going Next?" The USC-based journal may not be a lit magazine in the traditional sense, but spending some time on the site has certainly gotten my mind racing with ideas, connections, energy – all vital to the creative process. Here's how the editors describe the endeavor:
Vectors maps the multiple contours of daily life in an unevenly digital era, crystallizing around themes that highlight the social, political, and cultural stakes of our increasingly technologically-mediated existence. As such, the journal speaks both implicitly and explicitly to key debates across varied disciplines, including issues of globalization, mobility, power, and access. Operating at the intersection of culture, creativity, and technology, the journal focuses on the myriad ways technology shapes, transforms, reconfigures, and/or impedes social relations, both in the past and in the present.
Each issue has a theme, the latest – "Difference." Vectors is the kind of online project that you really have to explore to understand. The innovative ways that information is mapped, delivered, clarified all remind me of Edward Tufte's work. So, explore, share, get inspired – and pass on Vectors to a friend.