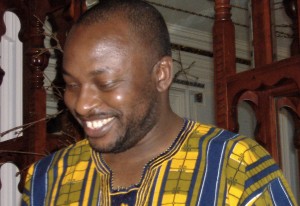 Don't miss Oprah's live webcast discussion with Uwem Akpan about his collection Say You're One of Them this Monday, November 9th, at 9pm EST. The conversation will be simulcast on both Oprah.com and CNN.com, as well as on Facebook.
Also be sure to check out Eileen Pollack's wonderful essay for CNN.com about working with Uwem during his time at The University of Michigan, where he received his MFA in Creative Writing in 2006. In addition to discussing what it was like to have Uwem in the classroom as one of her students, she also describes how her initial hesitancy to bring a priest into the program–due in part to how other students might react to a clergyman assessing their writing–disappeared after his first day on campus:
If I still felt apprehensive about having a priest in my workshop, that anxiety vanished when Uwem Akpan walked in the room. Rather than wear his clerical garb and collar, Uwem showed up in a blue and maize University of Michigan sweatshirt. With his wide, gap-toothed smile, wall-shaking laugh, disarming candor and gleeful giggle, he exuded magnetic charm.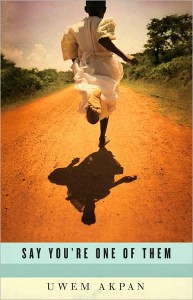 Other highlights from the essay include descriptions of Uwem's experience auditing a seminar on Holocaust literature, the time he accompanied Eileen to her temple for the Jewish New Year, and how The New Yorker ended up publishing his very first story. But above all it is a warm and generous portrait of a writer whose vision, optimism, and curiosity has the ability to inspire nearly everyone he meets. This was certainly true for her, certainly true for those of us in the program who got to know him, and will certainly be true for readers of his wonderful story collection. So don't miss Eileen's essay or Oprah's discussion with Uwem about his work.
You can also read a 2008 interview I conducted with Uwem for Granta here.