Over the years I've received in my University of Illinois mailbox numerous desk copies of books touting the craft of writing fiction.  I have to confess that there's a tender place in my heart for these sorts of books.  When I was but a high school dreamer of a possible literary life, E.M. Forster's Aspects of the Novel and Ezra Pound's The ABC of Reading taught me how to focus on what mattered to me in my reading and budding attempts at writing.
So when a free craft book arrives in the mail, I'm happy to page through it in hopes of finding something that might help my students (and perhaps give me a needed kick in the butt, too).  Many of these books have impressive titles that seem to promise the secret to successful stories, or a novel that will confer instant stardom, but the authors of these books are often not familiar to me.  I know this is not a valid criticism—there are many worthy writers out there whose work I am ignorant of.  And a number of fine contemporary writers whose work I admire have written excellent craft books: Robin Hemley's Turning Real Life into Fiction springs to mind, as well as Maps of the Imagination, by Peter Turchi, and Francine Prose's Reading Like A Writer.  I've taught them all, to appreciative students in my various undergraduate and graduate fiction workshops.
I can add another book to this list, On Writing Fiction: Rethinking Conventional Wisdom About the Craft (Writer's Digest Books, 2011).  This is a book that lives up to its audacious title, and has the further backup of being written by an award-winning short story writer and a master of the form.  I have to admit, though, that I might never have come upon his stories or essays if he weren't a colleague at the low-residency MFA program of the Vermont College of Fine Arts.  Lucky me.  David Jauss is a treasure who remains largely—and unjustly—undiscovered.
On Writing Fiction (an earlier edition is titled Alone with All that Could Happen) deconstructs, in a gentle yet methodical way, what many writers assume is the "correct" way to approach point of view, characterization, epiphanies, and tense, among other subjects.  Perhaps because he is also an award-winning poet, Jauss sees fiction with both an insider and outsider's eye.
Francine Prose, in her essay "Learning from Chekhov" (from Reading Like a Writer) remembers how, while taking a bus home after teaching a weekly creative writing class, she'd read a Chekhov story that successfully broke one of the "rules" that she'd just taught her students.  These rules were mainly "don'ts": don't give characters similar names in the same story, don't use multiple shifts in point-of-view, don't let a character do something for "no reason," don't write a story where nothing changes.
Prose's honesty is bracing here, for most if not all teachers of writing have employed a list of don'ts at one time or another, usually for a workshop of beginning students.  Why do we do this?  The negative imperative is meant to be helpful, not putative, I think.  We want them to avoid pitfalls we've encountered in our own writing lives—it's the literary equivalent to telling a child to look both ways before crossing the street.  The danger here is that we will come to listen to our own advice.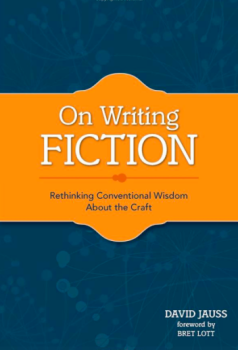 Which is why the insights of Jauss's On Writing Fiction are so welcome.  He asks questions that cut through some cherished nuggets of received wisdom. Why, for instance, must point-of-view remain consistent in a story?  In the chapter "From Long Shots to X-Rays," he writes that "perhaps the most important purpose of point-of-view is to manipulate the degree of distance between the characters and the reader in order to achieve the emotional, intellectual, and moral responses the author deserves."
In other words, blind consistency to a particular point-of-view can constrict a fiction, while altering the distance offers opportunities of revelation.  Jauss' analysis of "Hills Like White Elephants" is a canny examination of a subtle twist in Hemingway's short story.  We all know the elliptical conversation avoiding the topic of abortion that the two American lovers are having at a Spanish train station, their story told by Hemingway with a tightly controlled remoteness, observing these characters from the outside.  Yet this control, Jauss observes, is relaxed twice, in two brief sentences, and the second instance is particularly telling: the man, waiting for the train's arrival, "drank an Anis at the bar and looked at the people.  They were all waiting reasonably for the train."
The word "reasonably" is not an objective authorial observation.  Instead, it offers a fleeting window into the man's mind: he approves of people behaving reasonably, and one can reason that he likely thinks he's the one being reasonable in the crucial conversation with his lover.  Jauss writes:
If Hemingway had maintained the same point of view throughout the story, as most commentators on point of view would recommend, we'd never know whether the man was a conscious, Machiavellian villain or merely a self-deluded person.  But Hemingway wisely shifts his point of view, twice moving in from outside to reveal, with increasing depth, the man's thoughts.
As I mentioned earlier, David Jauss has the writing chops to lend authority to his insights.  Again, there is a tie to his poetry, which certainly influences the clarity and metaphoric concision of his prose (while his poems often are often enhanced by a spine of narrative force).  These qualities are brilliantly on display in his latest book, Glossolalia: New & Selected Stories (Press 53, 2013).
The opening story in the collection, "Torque," is an apt demonstration of the advice Jauss offers about point-of-view.  Larry Watkins develops an obsession with refitting a Cadillac into a limousine that could be used as a family car.  This unusual ambition began as a little joke with his wife when they were first dating.  But for Larry the joke hardens into something serious, and stubbornly peculiar, while for his wife Karen the joke remains a joke.  Larry can't articulate, to Karen or even himself, what this project means to him, even when he parks the hulk of a battered Caddy in the garage and starts studying plans in Limousine and Chauffer magazine.  When Karen leaves him, Larry, left alone in the house, quits his job, stops paying the bills, and instead spends too much time sitting in the driver's seat of a car that isn't going anywhere—the only progress he's managed is cutting the car frame in half to prepare for that limousine expansion.  Occasionally a woman from across the street, who babbles words of her own making, drops by to sit in the back seat, and Larry indulges her until her weary mother arrives to bring her back home.
In the final paragraph, the story's close third person point of view switches to an entirely new character, a man who has arrived to serve divorce papers on Larry.  The man stands at the front door, ringing the bell, but no one appears. Then the process server hears something in the garage, and he approaches, seeing for the first time, abruptly, what the reader has been slowly led up to, and our understanding is shockingly focused:
Crossing the yard to the driveway, he saw the rear end of a car sticking out of the garage.  As he reached the door, he saw that the car had been sawn in half and there were two people sitting in it.  "What the hell?" he said.  Then he called out Larry's name, but Larry didn't seem to notice; he just kept looking out the windshield at the garage wall.  He was silent, but the woman in the back seat was jabbering in some strange language the process server couldn't understand.  But Larry seemed to understand.  He nodded when she spoke, said something back to her, then turned the wheel carefully to the left, as if rounding a dangerous curve.
Here, in manipulating the point-of-view, Jauss has achieved an effect the opposite of Hemingway's: rather than focus in on a character's thoughts, he pulls back, so that the reader can see more clearly what the main character can't see himself.
*
In On Writing Fiction, in the chapter "Autobiographobia: Writing and the Secret Life," Jauss writes that assuming the voice of a fictional character is a secret form of autobiography, at least in emotional detail, and that the donning of such a mask allows a writer the freedom to speak personal truths he or she might never do in memoir.  The title of Jauss's New and Selected collection echoes this insight.  Glossolalia is a word that means "speaking in tongues," and it also refers to the range of characters that Jauss has explored, many of them far from his own time and experience:
In my stories, and in my poems, I have tried to write my way into many characters whose lives I know nothing, or next to nothing, about. On paper, I have been—or at least tried to be—a nun, a serial killer, a bag lady, a nine-year-old boy, a ninety-nine-year-old man, a woman afflicted with hysterical blindness, a teenager who witnesses his father's nervous breakdown, a man with an artificial hand, a divorcée, a girl from Bangladesh, a minor league baseball player from the Dominican Republic, a Hmong refugee, a sixteenth-century Spanish priest, a nineteenth-century Russian dwarf, the biblical Lazarus, and various other characters, including several actual jazz musicians and authors.
Manny Sanchez, in the story "The Bigs," is a promising pitcher from the Dominican Republic who plays for a major league farm team in Little Rock, Arkansas, and is working toward his big break.  He wants to be the next Juan Marichal, but playing baseball in the United States also entails struggling with a new culture and language.  His wife, Pilar, is homesick and returns to the Dominican Republic with their daughter, Angelita.  Manny doesn't follow, still pursuing the possibilities of his ambition.  His doubts about his decisions affect his pitching, and during one night game, in the story's central drama, Manny's worries overwhelm his concentration into one wild pitch after another.  Jauss tells this story through Manny's voice, an awkward English that has its own eloquence:
I don't know why I stayed in Little Rock.  I should have went to Santo Domingo that same minute.  Maybe I don't love Pilar and Angelita like I think so.  Maybe I want to hurt them like they do me.  Maybe there is something wrong with inside of me that make me stay.
Manny stands on that mound in Little Rock, halfway between his old home and a possible new one, his incomplete journey embodied by his imperfect English.  Each sentence shows how far he has come, and how far he has yet to go.  Some craft books urge young writers to avoid dialect or non-standard English, as it can often be seen as denigrating, and this is an appropriate caution.  Yet Jauss is a writer who never settles for the easy route, and his use of Manny's voice is suffused with empathy as he joins diction with drama.
*
In "Some Epiphanies about Epiphanies," in On Writing Fiction, Jauss observes that "there are indeed far too many epiphanies in American fiction these days, and . . . most of them are unearned or unconvincing, the literary equivalent of faked orgasms."  One problem with epiphanies (among many potential pitfalls) is that "in virtually all cases, epiphanies appear at the end of the story," as if a revelation has been winding up and only chimes on the last page.  Jauss goes on to discuss stories that avoid easy placement (and interpretation) by several writers—Charles Baxter, Sheila Schwartz, Alice Munro, and John Updike, among others—who have found ways to "save this problematic fictional technique from itself."
In the story "Freeze" in Glossolalia, Jauss offers his own variation, and he gets right to it.  In the first paragraph, a terrifying moment triggers the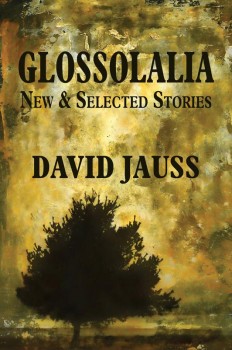 main character's epiphany:  "On a mission in the Iron Triangle, Freeze stepped on a Bouncing Betty that didn't go off and nothing seemed real anymore.  It was like he'd stepped out of Nam when he stepped on the mine.  And now he wasn't anywhere."  The problem is, Freeze should have died, and now he doesn't know what to do in this place where nothing seems real anymore.  Something has been unleashed inside him, and he flails about recklessly, deepening his trouble with his new commanding officer.  One could say that this epiphany is simply too big for Freeze to take in all at once, and that it's less an opportunity than a curse, a curse that slowly closes its jaws over him during the course of the story.
One frustration of writing a single essay about David Jauss's craft essays and short stories is that every one is worthy of its own in-depth examination.  His essay "What We Talk About When We Talk About Flow" is perhaps the contemporary critical take on prose rhythm, and "Lever of Transcendence" combines physics with close literary reading to reveal the power of contradiction in the creative process.  As for his stories in Glossolalia, "Deliverance," a story in the form of an interview, is a wildly funny and disturbing look at a pathological liar; a mother's fateful lapse of devotion in "Constellations" can haunt a reader for days afterward about the tug between sacrifice and self-preservation; the multiple narrative frames of "Apotheosis" create a Borgesian rabbit hole that invites re-reading; and the cat's-cradle heart-break of "Glossolalia" captures the turn from regret to compassion better than any other story I know.
Usually, a collection of stories that comes with the subtitle "New and Selected" gives me a sense of relief—ah, the author him or herself has picked the very best for me, I don't have to wade through the so-so and the meh.  With Jauss, though, this assumption doesn't really hold, because his production of stories has been so consistently excellent.  Any admirer of Glossolalia would do well to seek out his individual collections, which are more than worth exploring.  In particular, Black Maps (recently reprinted as an e-book by Dzanc Books) is itself a near-perfect story collection, held together by the theme of crossing interior or exterior borders, and "Brutality," one of the shortest stories in that book (and not, unfortunately, included in Glossolalia), is also one of my favorites.  Glossolalia is a more than welcome overview of David Jauss's career to date as a short story writer, and every lover of the form would profit from reading and studying this book, yet what this writer deserves is not only a New and Selected, but, one hopes one day, a Collected.