One of the highlights of working with Fiction Writers Review over the past two and a half years has been watching our readers' own writing take off—from first published stories to debut novels and collections, to all the interesting projects our contributors and community have going on around the world. When it comes to sheer energy, creativity and community-building, Meg Pokrass sets a high bar. You may remember her launch of A Barbaric yAWP last year, an online-community alternative to AWP for the many writers out there who couldn't make the trip. Meg held a second yAWP this year, replete with writing prompts, contests, animated mini-movies, hilarious videos, and sponsorship from Press 53.
This month Press 53 published Meg's debut, a collection of flash fiction titled Damn Sure Right. It takes a certain amount of vim and vigor for an author to saddle a collection with a title that loudly proclaims this is it!—but the stories in Damn Sure Right have an of-the-moment feeling, brash confidence, and vulnerability that make a reader sit up and take notice.
In addition to flash fiction, Meg writes prose poetry and makes story animations. She currently serves as editor-at-large for Frederick Barthelme's online lit journal Blip Magazine (formerly the Mississippi Review) and before that, SmokeLong Quarterly. She designs and runs the popular Fictionaut Five author interview series for Fictionaut.
Meg's work has appeared in more than a hundred online and print publications, including Mississippi Review, Wigleaf, the Pedestal, Everyday Genius, Keyhole, Annalemma, elimae, Gigantic, Gargoyle, Prime Number, Women Writers, Istanbul Review and 3AM. Her work has been showcased for Dzanc Book's Short Story Month and has been nominated for Dzanc's Best of the Web, The Pushcart Prize Anthology, and Wigleaf's Top 50 [Very] Short Fictions.
In keeping with Meg's beautiful economy, here's a short conversation we had over email during the weeks after AWP and the yAWP, followed by a Meg's flash fiction story "The Lobby" from Damn Sure Right. Let's get to it.
Conversation
Lee Thomas: You've been published many, many places. Do you remember the first story you had published? Can you describe that experience?
Meg Pokrass: My first story was published in January, 2008—three years ago. The experience was straight-out shock and ecstasy! There is nothing like the first time! The story, "Leaving Hope Ranch," was published in the online magazine 971 Menu. The story was later republished in Storyglossia and selected for the Wigleaf Top 50, 2009. You can read it in the 971 Menu archive, here.
"Flash fiction" and "short shorts" are new(ish) terms, but the shorter story has been around for a very long time. Have you always written flash fiction?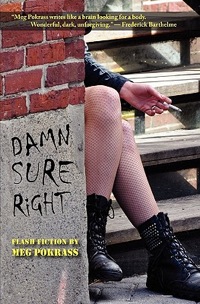 I wrote narrative poetry irregularly for twenty years, before I found flash fiction (three years ago). My original writing mentor was the poet Molly Peacock. She mentored me by working with me personally and editing my poems. She was letting me knew I had something. At the time I was a struggling actor. A few years later I got married, started a business… and the writing become even more irregular.
Then, a few years ago after an extended illness and a sort of complete mid-life crisis (!) I stumbled across flash fiction online in journals like Night Train, elimae, Storyglossia, and Vestal Review, and I started reading them religiously. I reworked my narrative poems into very short stories—it was exhilarating to do so. I started getting chills when crafting my existing poems into tiny stories: they were clearly made stronger. The flash story freed them, and from that point on, my writing became fluid. In fact, it nearly poured out, and my chronic writing blocks went away.
In your new collection, Damn Sure Right, many of the stories have a very strong sense of place, often West Coast. The first sentence of "California Fruit" is "We were transplanted Pennsylvanians who understood the value of fresh fruit." I love that sentence because I've heard it from so many people who end up in California, or visit, or dream of its year-round growing season.
Yes, it's true. There is nothing like picking and instantly eating fruit from a tree, especially as a kid. The story you reference, "California Fruit," began life as a poem called "Fresh Fruit And Sun Damage." It was first published by SmokeLong Quarterly.
I moved from Pennsylvania to Santa Barbara, California, with my mother and much older sisters, when I was five. Free of my mother's volatile marriage to my father, our small family was able to breathe. My oldest sister became a successful television actress in Los Angeles, which added something exotic and exciting as well.
Santa Barbara was a sensual place in which to grow up, and I believe the overwhelming physical beauty and nature that was available there helped me to feel rooted again, after leaving my entire extended family back east.
How do you set about nailing down place in a story of only a few hundred words?
A process of severe editing (often discarding 75% of my first drafts) became ingrained in me while editing my narrative poetry for years before writing flash. I always believed that cutting every unessential word was the most important factor in the effectiveness of my writing. So even before writing flash fiction, the idea of short yet mighty was something I had learned to work hard for.
In flash, it is not necessary to rely on plot. The "plot", if there is one, may be something murky, unspoken, and emotional. In order for a story to be successful, something internal (a way of seeing things) changes—leading to an integral, sometimes rebellious shift in a character's way of seeing things. I'm a strong believer that big life changes originate out of seemingly small, subtle observations and/or shifting awareness toward a situational reality. This has always been true for me.
More important than anything in flash fiction is what is not told or said. A story's intentional "holes" often sing louder than what is written. Absence speaks worlds. I search for this when writing, trying to find a way to allow the writing to get out of the way!
A type of flash fiction that intrigues me is what I call patch-working—pulling out disjointed bits from various prose poems or stories and stitching them loosely together. These stories (my story "Lost and Found" may be my own best example) usually have no linear structure. The overall effect is a sense of a character's life through scattered written moments like photographs, sort of an emotional slide show. The fun is finding the right fragments and matching them. Later it feels as though they always belonged together.
In reading your collection, especially stories that run only a paragraph—like "Team" or "Stone Fruit" or "The Lobby"—part of the pleasure is a kind of creative exchange between the story and me, the reader. I get a beautiful, full snapshot, or maybe a series of them in quick succession, and begin filling in the edges, hypothesizing, engaging in creation with you, the writer. Do you feel like flash fiction, more so than, say, a novel, demands a kind of reader-writer exchange?
Yes! I agree, but I'm not sure I can explain why—why small, successful pieces do that. I'm guessing it is what is the absence, the what-is-not-said that begs the reader inside so strongly, that creates a unique bond.
What do you read, listen to, or watch for inspiration?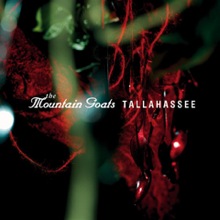 Poetry: Dorianne Laux and Bob Hicok. Short fiction: Brad Watson, James Robison, Lori Ostlund, Mona Simpson, Aimee Bender, Mary Gaitskill, Francine Prose, Raymond Carver, early Lorrie Moore, Richard Ford.
Music: Yo La Tango, Spoon, Hank Williams Sr., Iron and Wine, The Mountain Goats, Belle & Sebastian, ELO, Beatles, Joni Mitchell, Big Star, Wilco and Billy Bragg, Ray LaMontagne, The Roaches, Joanna Newsom.
Film: Desert Bloom, Harold and Maude, The Graduate, The King's Speech, Fanny and Alexander, Hannah and her Sisters, Best in Show (I have a terrible weakness for the silly, like Christopher Guest's films and older Woody Allen flicks like Sleeper and Love And Death.).
In your story "Scotts" a woman places a personals ad on Craigslist intended for a coworker named Scott, and gets some unexpected responses. Much of your work, and that story in particular, engages the current culture—online, digital, frenetic, connected, and disconnected—in a very direct way. Do you find the shorter story form particularly suited to some new aesthetic? Have you always written stories of the "now" moment (for lack of a better term)?
Writing about new technologies is a bit risky as a writer, in that whatever technologies you write about may be gone or outdated by the time of publication! I wonder if that's why a lot of writers avoid writing about it.
Having most of my work originally published in online magazines, I found myself online a lot and therefore, well-suited for satirizing the emotional landscape and constant challenges of technology. For example, in the story you mentioned, "Scotts," too many men named "Scott" reply to an ad on Criagslist.
The subject of humans trying to come to peace with new technologies fascinates me. As a personal example, my closest writing friends are people whom I've never met in person. How can it be that we feel so close? We have shared so much of each others' worlds through our stories—but it is very, very odd!
How do you write?
Notebook and computer. Mostly computer now because my handwriting can't keep up with my brain.
What was your experience getting Damn Sure Right published, and what has it been like going with a small independent publisher like Press 53? They're across the country from you in North Carolina. How did you find each other?
I'd received a few nice notes over a time period from Kevin Morgan Watson, Press 53 founder, complimenting a few stories and/or publication wins. It seemed he enjoyed my work. So naturally, when I had a manuscript ready, I queried Press 53. It turned out to be an amazing fit. Watson looks for writing that sticks with the reader, and he has no bias toward form.
Working with Press 53 has been warm, fun, and seamless. The other Press 53 authors are kind and supportive toward each other; it's been a wonderful place to land!
Would you take us out with a story?
Of course. Below is a story called "The Lobby," which was originally published in FRIGG, and it gives just a hint of what you'll find in Damn Sure Right.
Thanks, Meg; it's been a pleasure.
"The Lobby"

I'm seventeen in the hotel with my father in the suite and the TV on, his wine not chilled as he likes, eyelids already droopy and unforgiving. He wants to play Scrabble with me, it's the thing we do at night, but I want the man sitting alone in the lobby who'd looked at me with crackling eyes as though he were an eel. When my father finally falls asleep in his bathrobe and shorts I slide out to the red velvet lobby where he is waiting for me. He may be caught between bell boys shifting on their legs, business men loosening their ties; if he's not there, I will find him in skinny fragments of sashimi. I can wait all night long in a red lobby full of geeks, listening to elevator bells. I can sit dreaming about taking everything away from my father.
Further Links and Resources
Visit Meg's website megpokrass.com to snag a copy of Damn Sure Right directly from her, view some of her whimsical book trailer animations, find links to many of her stories online, and more.
See the latest books on offer from independent Press 53, and get details on the annual Press 53 Open Awards, accepting submissions of poetry, flash, short stories, creative nonfiction and novellas. Deadline is March 31.
Relive the fun and frenzy of Meg's Barbaric yAWP.
View one of Meg's original animated book trailers for Damn Sure Right: