Jess Row's second collection of stories, Nobody Ever Gets Lost, is an examination of some of our most intense impulses. In "The World in Flames" an unscrupulous backpacker in Thailand takes advantage of her host's generosity, but then discovers a terrible plan. "The Answer" imagines the motivations of an eighteen-year-old who becomes a jihadi, and the bewilderment of the college peer he ledeeaves behind. In the title story, a translator is drawn to investigate an urban tragedy, although on the surface it seems unconnected to her own losses. The seven stories in Row's book all circle around either the events of 9/11, or the beliefs and emotions that may have inspired those events, and other acts of extremism. "The Call of Blood" traces the uneasy relationship of a Korean woman and her mother's caretaker, an African-American male nurse. The story begins: "Mornings he finds Mrs. Kang upright in bed, peeling invisible ginger with an invisible knife." The details of these stories are indelible, and their revelations often leave the reader slightly breathless.
Jess Row was named one of the 20 "Best Young American Novelists" by Granta, and is also the author of the story collection The Train to Lo Wu. His stories have appeared in The Atlantic, Granta, Ploughshares, and Harvard Review, and have been anthologized in The Best American Short Stories, The Pushcart Review, and The PEN/O. Henry Awards. Charlotte Boulay spoke with Jess Row in his office at The College of New Jersey.
Interview:
Charlotte Boulay: When did you become interested in fundamentalism?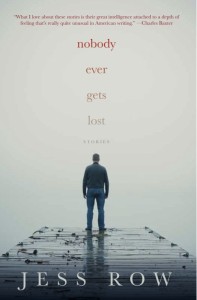 Jess Row: Well, September 11th had something to do with it. Until then I don't think I had really thought about fundamentalism, and certainly not as an aspect of my own work or something I would want to write about until September 11th. I was still really wrapped up in a more optimistic view of globalization and of intercultural relationships and in a sense fundamentalism wasn't really on my radar. For one thing, I had been living in Hong Kong, which is the last place on earth to locate any kind of fundamentalism except in a very sort of sub-stratum way because it's such a mixture of cultures. My first book was about Hong Kong. It's very commercial, it's very mercenary, and in some ways there are many darknesses associated with it, but religious fundamentalism is not one of them. Also, I was very immersed in Chinese culture, and in some ways Chinese culture has fundamentalist elements, like in any culture, but religious fundamentalism is very foreign although not entirely unknown. Chinese culture syncretizes three different traditions. In contemporary China there are some aspects of fundamentalism such as Falun Gong, but it really wasn't on my radar until 9/11, and then I started thinking about it very intensely. The first story I wrote in the book was "The World in Flames," which is not a story that has anything specifically to do with 9/11, but it was my first attempt to work out my ideas about what a fundamentalist world view feels like. It was the first bubbling up of an interest in religious violence. And it's set in Thailand, because I still had an attachment to narrating stories set in Asia, so it was trying to bring those two things together.
What were you doing in Hong Kong?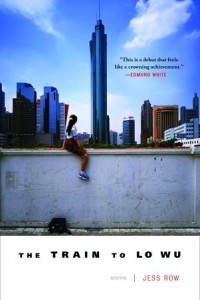 I was teaching English at Chinese University in Hong Kong.
I think "The World in Flames" is such an interesting story because for so much of the story the character of Samantha seems so unsympathetic. She's lying to the man she's staying with, she's there under false pretences, and then there's a sudden turn at the end of the story when she becomes completely sympathetic. When you were living abroad, did you ever find yourself in those situations where what you thought was happening was not at all what was actually going on?
All the time. And I could never have written that story without having had those experiences. I had experiences like that in Hong Kong, but even more so when I traveled, of being in a situation and not really understanding what the situation was, and I got into some very dangerous situations because of my own naïveté or my own lack of understanding of what was going on around me.
I was reading on your web site about your fascinating conversation with Claudia Rankine. I was wondering if you could talk about other authors you see dealing with the issue of race in interesting ways. Obviously your book is very much about racial identity, and how we deal with those different identities. Who else are you reading who is dealing with those kinds of issues?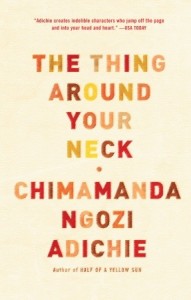 In some ways the reason I wrote that piece is that frankly I wish there were more writers [dealing with race], and especially more writers who come from a normative or a majority experience (and in the case of the United States that's obviously the white experience) and I wish there were more writers from that background writing about race. It's a longstanding concern for me, but in terms of the writers I'm reading these days who are doing interesting things, I think Chimamanda Adichie's book of stories called The Thing Around Your Neck, that I reviewed for the New York Times is a really interesting example because she's from Nigeria and her first two books were these long and not entirely conventional novels about Nigeria's recent history, and in some ways they touched on very familiar developing world themes of the victimization of women, and other not uncommon themes. Her book of stories is much more about the experience of being an immigrant writer and being in the US under the guise of various identities, and it's about being a woman writer in Africa and in the context of world literature. And her attitude toward these things is very sharp and satirical and a little bit throwing the naïveté and the presumptions of the world around her back in its face. I really like that about her. I really admired that the collection was sharp and sarcastic in that way. There's one story in the collection about a woman at a writer's colony in South Africa, and the head of the colony is this very arrogant, complacent, older, white South African man, and the way this young woman experiences that environment of condescension and tokenism, and then the way she walks away from it is very powerful, and it's not something that's talked about very often.
One reason I really liked what Claudia Rankine wrote and what she did at AWP is that I think there are a lot of racial politics in the world literary community that's not being talked about publicly, and that needs to be discussed more publicly.
Especially the issue of who gets to write about race.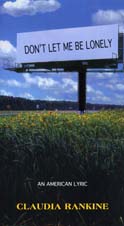 Who gets to write about race, and from the point of view of the critics, who makes decisions about prizes, and conferences, and best-of lists. There's a kind of ferment right now in literary culture about the exclusion of women, and the fact that statistically speaking it's still true that fewer women are being published. I think you could extend that to considerations of non-white writers and find similar issues. And the astonishing thing is that we live in a literary culture that seems to be incredibly diverse, and to have voices coming from all directions. It seems to be a very unbiased and cosmopolitan space, but I think we need to check ourselves, and ask whether that is a superficial appearance or whether that's really true on a deeper level.