I first came across Becky Hagenston's work in the book The Art and Craft of Fiction, by Michael Kardos. It was the short story "Midnight, Licorice, Shadow," and in that tight space, Becky had a dozen turns and twists—both in plot and language—that left me and my students gaping with wonder. Since then, I've read her collections with great enthusiasm, marveling each time at the steps she's taking. Her latest, The Age of Discovery and Other Stories, delves into new and surprising territory yet again.
The Age of Discovery—winner of The Journal's Non/Fiction Prize and published by the Ohio State University Press—spans the globe and the imagination, with thrilling blends of realism, futuristic techonological fears, and the relationships and mishaps that define all humans. For me, each story brought about that fissure of excitement I felt when I first discovered Hagenston's work in that anthology.
Becky Hagenston's earlier books include Scavengers (winner of the Permafrost Book Prize, University of Alaska Press), Strange Weather (winner of the Spokane Prize for Short Fiction, Press 53, 2010), and A Gram of Mars (winner of the Mary McCarthy Prize, Sarabande Books, 1996). Her work has appeared in numerous literary journals and anthologies, and she has received residencies to Yaddo and Ucross, as well as scholarships to Bread Loaf, Sewanee, and the Summer Literary Seminars in St. Petersburg, Russia. She is a professor of English at Mississippi State University.
Interview:
Erin Flanagan: I see differences between this collection and your last, Scavengers, which I also loved. These stories seem . . . weirder. How has your work changed through the years, and what do you attribute that to? Literary trends, your own understanding, the political climate?
Becky Hagenston: I also think these stories are weirder! I've been experimenting more with genre and point of view, and reading stuff by Samantha Hunt and Carmen Maria Machado and Shirley Jackson and Carol Shields and Octavia Butler. I've also been channeling my anxieties into fiction—about the political climate, yes, and also social media, and the planet, and the way people treat each other. I don't have kids, but I'm thinking more about the future that awaits my nieces and nephew. I'm getting older and experiencing a kind of vertigo that comes from thinking about the past and the future simultaneously. I'm a Gen Xer who remembers using typewriters and landlines, who is both terrified and excited about technology.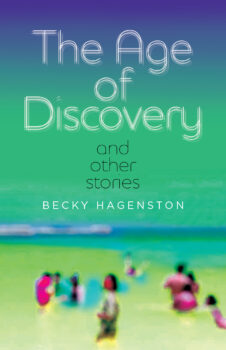 As a fellow Gen Xer, I have to say that resonates! With these weirder stories, did it present new challenges as far as organizing the collection?
This collection went through so many versions as I tried to figure out which stories belonged in it. One version was all realistic stories; another was all speculative. Another was mostly stories that had a France connection. I enjoy reading collections that keep you on your toes, wondering where you're going to end up next. I wanted to combine the realistic and the weird, and also to alternate longer stories with shorter ones. I wanted to end the collection with a story that takes place in the real world but also includes elements (like a library robot) that seem speculative.
I'm glad you brought up story length. I really enjoyed the variety here—some are just sips at a few pages, while others are a long gulp. Is story length something you're conscious of when you start a story or do you just feel your way?
I always just feel my way, but if a story is going to be very short—like the flash fiction piece in the collection, "Cornfield, Cornfield, Cornfield"—I know that pretty soon. That story was something I tried to work into a longer piece, and then I realized that with some revision it could stand on its own. When I realize a story will have alternating points of view, I know it's going to be one of the longer ones.
That makes sense. I can't imagine trying to write alternating points of view in a flash piece, especially the kind of complicated stories you write. I tell you, some of those longer stories really took my breath away. "Perishables" is arguably a masterpiece given how seamlessly you weave in all these characters, their backstory, the apocalyptic now of the story, and the emotional depth and realizations of the main character. It's so full and rich without feeling overstuffed or overreaching. How did this particular story come to be?
That story came to be as a what-if. Whenever the internet goes out, my husband I are always panicked: what now? What if it doesn't come back? And then I thought: Well, what if it doesn't? Ever? What if it shouldn't? What if we get to a point where the internet is so poisonous that it has to go? And then what would the internet trolls do?
It was a joke that I started taking seriously: What will the internet trolls do without the internet? And so I started with that character, someone who doesn't recognize the harm in the ugliness he's putting out into the world, but who wants to do what's right—even if he can't or it's too late for that.
I love that! And it really fits with what you said earlier about being excited and terrified of technology. Another story where we see that is "The Museum of Tense Moments" where you layer in a complicated reality that's different from our own. It takes place after the "Glitch" and a woman is walking her child through a virtual reality museum so she'll understand the past through displays of awkward situations, like a middle-school dance and a woman stood up at a restaurant. She wants her daughter to understand "the ways the world used to work, all the opportunities for missed connections and miscommunication and misunderstanding and helplessness." That struck me as a great line about a lot of your work which explore these missed connections and the fallout. I'm wondering if you could talk a bit about how these futuristic settings play into this.   
This story began as a poem, and it didn't really work as a poem so I made it longer and turned it into a story. I found myself thinking about all the ways technology is supposed to make us feel connected to people and make our lives easier, and how what we're trying to eliminate—moments of awkwardness and uncertainty—are actually important and necessary. I imagined a future where these moments become so rare that they end up in a museum. I think there's something lost when we try to eliminate those things, and I also think there really isn't a way to eliminate them. As I wrote the story, I realized that the mother and daughter are experiencing the same things they are observing in the museum. What I'm trying to do with the futuristic settings is give them believable emotional terrain.
What I'm trying to do with the futuristic settings is give them believable emotional terrain.
Yes, I totally see that. And it's cool too that while the time might be in the future, the settings are all very real, not only in that story but others. You keep returning to Mississippi and Europe, two different landscapes you seem very comfortable in. How did they become so prominent in your work, and how do you know where a story will take place?
Although I've lived in Mississippi for twenty years now, I didn't grow up here, so I still feel like an outsider in some ways. And Maryland, the place where I did grow up, doesn't feel like home, either. I like living in Mississippi very much, but I also like getting away—far away. When my husband and I travel to foreign places, what I like most about that is really being an outsider, trying to figure out the rules. I spent a sabbatical in the south of France, and my husband and I did go on a food tour in Lisbon, like in the title story. I take a lot of notes when we travel—just sit in one spot and write what I see and hear and smell. I also take moments of anxiety that I experience—getting lost, being confused, feeling like an idiot, etc.—and think about how to heighten and fictionalize them and give them to the characters I've created. I think I begin to know where the story will take place as I figure out who the characters are.
That's fascinating: the pairing of these real sensory details and locations with the emotional intensity you feel in everyday life. I think that's one reason why your "weird" stories are so powerful: because the reader is making that emotional connection to the characters. "Sea Ice" is a straight "realistic" story and was another favorite of mine. It's about a professor who wouldn't let a student in her office when there was supposedly an active shooter outside. It had me thinking about the role of responsibility in a job and as a human, and I loved that I so clearly understood all sides here, even those in direct conflict. It's a very empathetic story, which is something I could say about all your work. Is that something you're thinking about as you're writing: seeing all sides?
This story got its start when we had an active shooter false alarm at Mississippi State. It happened during a creative writing class, and I told the students later: "Well, now you have something to write about!" But I don't think anybody did. I couldn't write about it for years. We turned out the lights and sat on the floor behind some desks and just held our breath while other students rushed down the hall, some of them trying the doorknob and then moving on. It turned out there was no shooter, no gun at all. But it was absolutely terrifying. I didn't know how to keep anyone safe or how to be safe, and that feeling stayed with me and turned into that story and made its way briefly in "Storage and Retrieval," too. I set "Sea Ice" in a fictionalized version of my own Pennsylvania liberal arts college, where I was a banquet server; we did have Titanic night in the cafeteria every April.
And yes, I am often thinking about seeing all sides when I write a story, which is how I end up with multiple points of view. But it always takes a little while to find my way in. "Sea Ice" started out as two third-person points of view, and that didn't quite work. I realized one of the sections had to be first person, and the other one third, and I thought: Can I do that? And just went for it.
I love what George Saunders says in A Swim in a Pond in the Rain: "The writer has to write in whatever way produces the necessary energy."
I can only imagine how terrifying that event was for you, and as a professor myself, worry some day that I will know exactly. It's the world we live in, unfortunately, and in some ways a "realistic" story helps to highlight just how not-weird some of the futuristic ones. It's not like technology is our only threat! I'm curious, though, as a professor, how do you balance the teaching aspect of the job with finding time for your own writing. How have you made that work?
During the semester, I get up every weekday morning at five. It's the only time when my head is both clear enough and murky enough for me to write. I write from five to six. Sometimes that means staring into space, or watching the Carolina wrens under my porch wake up, or reading. But it's enough if I do it every day. It's not easy, and I have to go to bed at nine to stay sane, but I'm a morning person and so I need to work with that.
Clear and murky: that's perfect. And obviously your schedule is working for you! Anyone who's ever been on the short story submission circuit knows how hard it is to get a collection published, so it's quite an amazing feat all four of your collections have won major prizes. I have all kinds of reasons I think your work is wonderful, but I'm curious if you think you're filling a certain niche in contemporary literature, or where you see your collections fitting?
I don't think about filling a niche; I write stories because there are questions that obsess me, and I have to write my way—not to answers, but maybe just to more questions. But I do feel strongly about the short story form and wish it got more attention and celebration. I queried agents with different versions of this collection—and others—with no luck, and so I've submitted a lot of different versions to a lot of contests and small presses over the years. I feel extremely lucky to have managed to get collections published this way.
And as for celebrating short story collections, I just want to say that The Secret Lives of Church Ladies, by Deesha Philyaw, is amazing—and it's a small press book that's getting a lot of well-deserved recognition, so that makes me really happy. Another story collection I read recently and love is Sabrina & Corina by Kali Fajardo-Anstine, which—like Philyaw's collection—was a finalist for the National Book Award. Yay, short stories!
It has been so exciting to watch The Secret Lives of Church Ladies break through! As someone who's published with a university press, I was cheering too watching that book take off. I love to see it. Do you have any advice for short story writers, either from a craft standpoint or a business one?
Write what you love, read what you love. Read literary magazines. Find time to write, even if that means staring into space or talking to yourself in your car. Find some online craft classes or workshops if you need that extra motivation. Send stuff out. Rejection is okay. One of the stories in my collection, "Rise," was published by New England Review, and when I looked back at my submissions, I realized that I had been submitting one story per year to that journal for twenty years. Twentieth time was the charm. There are no stories in my collection that weren't rejected by somebody. But also, I write plenty of stories that aren't ever going to work—but I had to write them anyway. Don't be afraid to dismantle your stories that aren't working and use them for parts in other stories.
I'm going to cut out this answer and paste it on my wall. Every writer should. Thanks so much for taking the time to speak with me!