Editor's Note: Since 2009, the Italian author Nicola Manuppelli has translated seven collections of short stories and novellas by Andre Dubus. With David R. Godine, Publisher's June release of We Don't Live Here Anymore and The Winter Father—the first two volumes of a three-volume series of Dubus's short stories and novellas—here in the U.S., we are pleased to share Manuppelli's short introduction and interview with Andre Dubus III about his revered father and his writing.
---

Introduction by Nicola Manuppelli:
I started working on the writing of Andre Dubus after reading his story "Killings." I had not yet begun working as a translator and editor then, but I was talking with several publishers about my own writing. While speaking with one of those publishers, I asked:
"Hey, why not publish Andre Dubus's works? He's the best writer of American stories you'll ever read, and none of his books have been translated into Italian."

The publisher asked, "Who is he?"

I said: "Read him!"

The publisher read Dubus, and a week later told me: "Okay, would you try to translate his works?"

"Me? I have never translated a book."

"But you love it. You try."
And so it went. Now I am an editor and translator of American literature with many books on my shelf.
Neither the publishing house nor I were well known when the Dubus translations were first published, so we were growing up together. I loved Dubus's stories, but the Italian media didn't pay much attention to the books: an unknown writer for Italy was not interesting. So, I started going around the bookstores to give readings. It was 2009. I did more than a hundred readings that year. I talked about the life of this wonderful writer and about how he wrote his incredible stories. In those days, I looked for Dubus readers one by one. Literally. We were like a quickly growing family: as they too fell in love with Andre's stories, we became a family.
Today, Andre Dubus's stories have a large audience in Italy, and I have realized a dream of having done something very important in my life because Dubus is an important author not just for your reading, but for your life. He changed my life, really.
I always learn from Dubus. Most importantly, I learned to work on the things you love. It was what he did and what I have tried to do, too, as I work on the writing of authors I love. After Dubus, A.B. Guthrie arrived and Don Robertson, then Thomas Williams, Gina Berriault, Chuck Kinder, Roger Rosenballt, Robert Ward and many, many others. But Dubus remains my milestone: he was the first author I ever proposed to translate to an Italian publishing house, and while many others have followed, Dubus was a real love story.
I owe Andre Dubus a piece of me and the person I am today. I believe anyone who reads him will owe him something; Dubus's words have this effect on readers.
Interview:
Nicola Manuppelli: There is a marvelous photograph of your father hugging you. Do you remember it? Where was it shot and who shot it?
Andre Dubus III: That photograph of me and my father was taken by a photographer from The Boston Globe, probably around 1995 or so, roughly three or four years before my dad's death. The photographer's name was Michele McDonald, and she took it at my father's house in Haverhill, Massachusetts, to go along with my father's essay, "Carrying," in which he wrote about my brother, Jeb, and me carrying our father whenever he needed us to. I was there with my pregnant wife, Fontaine, and our toddler son, Austin, to do some carpentry chore on my dad's house, and that was when the photographer, who had read the essay, asked me how I actually carried my father. So I squatted in front of his wheelchair, and my father put his arms around my shoulders just before I stood with him on my back. That picture hangs in my home today and always will.
What do you remember about his writing method? When did he write?
My father always wrote in the mornings. Before he was run over by a car on the highway and crippled for the rest of his life (about twelve years), he began each day by going to the early 7:00 a.m. Mass at his local Catholic church. He would then retreat to his writing desk where he wrote longhand for approximately two or three hours. He would then clear his head by going for a run or lifting weights or both. On his teaching days, he would go and teach class. After he retired from teaching, his afternoons would be filled with reading and trying to spend time with his daughters, my two half-sisters, from his third marriage. During his 40's, the decade of his life when my father wrote, I believe, his finest work, he would often write while listening to operatic arias, and he would do this in a Japanese Kimono.
I've always thought that many of your father's stories are the correspondent in the prose form to what is Dylan's "Blood on the Tracks" in music. Jacob Dylan said that it is particularly painful for him to hear that disc. Is that so for you with your father's stories? Is there any character in those stories where you see yourself? Do you find the echo of your parents and their relationship in his stories?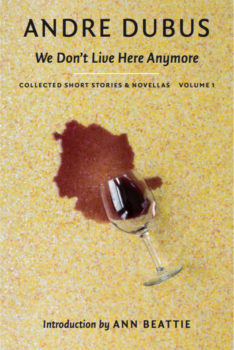 I like your association between my father's masterful work and Dylan's "Blood On the Tracks." My father loved Dylan (as do I), and I often think of that singer/songwriter when I read my father. And yes, it can be painful to read those stories of his, especially the earlier novellas—such as "We Don't Live Here Anymore," "Adultery," and "Finding a Girl in America"—because I recognize our family in them: my mother and father and their failing marriage; me and my siblings; my father's artistic and often hard-drinking friends. My dad wrote directly and sometimes quite literally from his own experience, and I always see and feel so much of him and us in his work, though I rarely see a deep depiction of me, personally. My dad did tell me once, however, that in the opening scene of "Killings", my favorite story of his and the very first I ever read, that the character of the older brother at the graveside was based on me.
Do you remember the moment of the car incident? How did it change him to be in a wheelchair, personally and as a writer?
My father's car accident, quite frankly, changed him into a better man, something he would say himself. Confined to a wheelchair and largely dependent on others, he became even more humble, a better listener, more present in the moment. Before his accident, he threw the best part of himself into his daily writing and teaching and exercise, and then he spent the rest of the time, especially with us, his family, trying to relax, which he was not very good at doing. But in that wheelchair, he devoted himself to each and every moment, and he was more enjoyable to be around, something he would admit. Twice he told me that if he were given the opportunity to avoid that accident on the highway, he would not. "Why?," I asked him. He said: "Because I've learned so much."
What is the last memory you have of your father?
The last memory I have of my father is a beautiful one. It was late at night in February, and he and I had just watched a televised boxing match together. The following morning, I was to fly to the west coast to start my book tour for my 1999 novel, House of Sand and Fog. This is what I wrote of that moment in my memoir, Townie:
I stood and told my father it was time for me to go.

"All right, man." He smiled up at me and raised his arms for a hug. I leaned down, the glass in my hand, and hugged him with one arm. His back felt broad and thick, and I could smell his Old Spice, the dried cognac on his whiskers. He held on and looked into my face and said to me what he said to all six of his children all the time, those three words his father had never said to him. I said them back and kissed him on the lips.

He took my glass and rested it in his lap with his, then he turned his chair around, gripped the railings, and pulled himself up the plywood ramp into his dining room and kitchen. He switched on the overhead light. I put on my jacket and opened the door. The stars were out, the air so cold my lungs ached with the first few breaths. Pop followed me out in just his black shirt and sweatpants. He stopped at the end of the landing before the descent of the first ramp. He was talking about this new novel I'd written, his tone generous and encouraging, the way it was with most young writers, including me.

I turned and waved and headed down the first ramp, then the second, third, and fourth. From the driveway I could see him in his wheelchair beneath the porch light, his breath thin and white, rising into the air where it vanished. Beyond him was the steep hill behind his house, the bare poplars in snow, their upper branches against the stars.

Pop was talking, and while I couldn't make out his words, his tone was upbeat, and I knew he was still speaking about me and my new work.

"I'll call you from the road, Pop."

He called out something else I couldn't hear. I started my car and didn't give it enough time to warm up. I backed it to the frozen snowbank, drove down the hill, and away.
As you know, Nicola, my father died two days later. I never spoke to him or saw him again, and I miss him so very much. But I, and my entire family, are so grateful to know that his masterful work lives on in Italy and elsewhere.
---

Dubus Works Translated by Nicola Manuppelli:
Non abitiamo più qui (Mattioli 1885, 2009) We Don't Live Here Anymore

Introduction by Nicola Manuppelli and afterword by Tobias Wolff

Voci dalla luna  (Mattioli 1885, 2011) Voices From The Moon

Introduction by Peter Orner and afterword by Nicola Manuppelli

Il padre d'inverno (Mattioli 1885, 2012) Finding a Girl in America

Introduction by Nicola Manuppelli

Ballando a notte fonda (Mattioli 1885, 2013) Dancing After Hours

Introduction by Nicola Manuppelli

I tempi non sono mai così cattivi (Mattioli 1885, 2015) The Times Are Never So Bad

Introduction by Nicola Manuppelli

Voli separate (Mattioli 1885, 2016) Separate Flights

Introduction by Nicola Manuppelli

Un'ultima inutile serata (Mattioli 1885, 2017) The Last Worthless Evening

Introduction by Nicola Manuppelli