I met Margot Livesey at my first writers' conference several decades ago. I had given up on trying to write plays, fallen in love with fiction, and had produced a short story I was quite proud of. I also had a generous supply of frequent flier miles and could go anywhere, so I decided on Sewanee, Tennessee. The University of the South had begun its writers' conference the year before, thanks to funding from the Tennessee Williams estate, and was boasting a range of famous writers to work with. I picked a novelist I greatly admired and looked forward to his sage advice about how I should proceed as a writer. At our group's initial meeting, the famous writer assigned conference times and introduced Margot Livesey, his co-teacher. Then he said he had nothing further to say, and did Margot?
She did. She started talking to us about what we were all hungry for, craft and character. Several days later, when my turn came to meet with the famous writer, he didn't seem to have read the story. He kind of tossed it aside and said, "The thing is, what are you going to do with this?" I talked a bit about hoping to create a set of stories about the main character, based on my father, and the rest of my family. He advised me to move ahead with it, and that was that. Disappointed, I ran into Margot on my way back to my room. The long and short of it was, I begged her to read the story, and she very kindly did. And offered me my first commentary and critical assessment.
After the conference I read the title novella to her story collection, Learning by Heart (Penguin, 1986). And there, in no uncertain terms, was the brilliance I aspired to. The novella revolved around a narrator much like Margot and a difficult relationship with a stepmother. I admired the tension in the sentences and the tightrope on which the narrator made her careful way, trying, I felt, to be fair even as she made the pain of her situation clear. There was no self-pity, no sentimentality. There was also a bracing sense of energy that I found uplifting in spite of the dark subject matter, something I've come to think of as a Livesey hallmark. I dashed off a note to her, thanking her again for her encouragement and raving about Learning by Heart. To my astonishment, a couple of weeks later I received a reply. To which I replied.
And so began a correspondence. Another writers' conference and then enrollment in the Warren Wilson College MFA Program for Writers, where Margot often taught, and a friendship was forged. Two years ago, I finally finished my first novel, and Margot again stepped up to offer support and a blurb and great encouragement. Now, with my own book out in the world, I'm honored to be talking to her on the occasion of her new novel, her ninth, The Boy in the Field (HarperCollins).
Interview:
Mari Coates: It struck me that many of your novels start with a character to whom something happens. In Criminals, for example, a young banker finds an abandoned baby in a restroom. In The Missing World, a much less reliable man takes advantage of his ex-girlfriend after she loses part of her memory in an accident. Then there's Gemma in The Flight of Gemma Hardy, to whom many things happen! In The Boy in the Field, three children on their way home from school see something. Or, rather, one of them, Zoe, with her "gift for finding things," sees something, grasps its import immediately, and runs to investigate. Her brothers follow, and stunned into solemnity, the three of them approach an unconscious boy. If not for the blood covering his bare legs, he might be sleeping. They raise the alarm, an ambulance arrives to whisk him away, and their lives begin to change. The scene is so carefully and precisely drawn, I almost wondered if this had happened to you! Can you tell us the origin of this story?
Margot Livesey: I did not find a boy in a field but several years ago, after a long absence, I reconnected with an old high school friend who described how he had come home from school one summer afternoon and found the body of a young woman at the bottom of his garden. She had been killed by her boyfriend. This very brief encounter changed his life. Later I asked my adopted mother about the crime and she knew someone else who had seen the body, a friend whose first thought on glimpsing the woman's bloody legs was that she was wearing the red socks of the local schoolboys. I began to picture these events taking place not in a Scottish village but in a field outside Oxford. I worked at the scene as if it were a painting, adding details, shadows, moments of light and dark and trying to show how each of the siblings sees the boy. A crucial decision was to make his injuries not fatal. I wanted the focus of the story to be on Matthew, Zoe, and Duncan.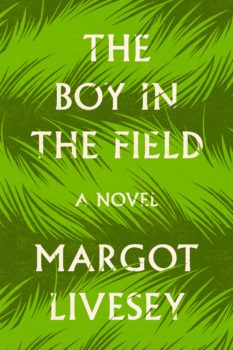 I'll admit that I was expecting to be in Scotland. Any particular reason you set the novel near (and in) Oxford?
I wanted the pastoral beauty of the English countryside and I wanted the towns and villages to be closer together than they typically are in Scotland. And Oxford, with its many layers of history, has long struck me as a fascinating city, full of possibilities.
A few years ago, you published The Hidden Machinery: Essays on Writing, which is such a lucid examination of how some of the greats have tackled the craft issues we all face. It seems as though it could have sparked this new novel.
I hope The Boy in The Field benefited from my writing and revising those essays. Most of them had originally been written as lectures for various writers' conferences. Working on them side by side, I understood that there were certain elements of craft I could bear down on—character! Setting! Hearing my own advice made me even more aware that the writer needs to interest the reader as well as interest herself.
I would call you a master of thin spaces, the places where life slips from one reality to another. You do this effortlessly, seamlessly, throughout your work, most especially in Eva Moves the Furniture. The novel opens with Eva describing her own birth in a small Scottish town, and the immediate death of her mother. But first, we hear a tale of miraculous healing; a medieval Italian surgeon comes upon a pair of dueling swordsmen, one of whom loses his nose. The surgeon rinses the nose in urine and sews it back on the man's face. When he removes the bandages eight days later, the nose has taken hold and the man is whole once more. Over the course of these beautiful pages, another unlikely healing occurs, for Eva and definitely for the reader. Do you discover these thin spaces as you go, or do you seek them out?
What a lovely description, Mari. I've never thought of it in quite that way before. Eva Moves the Furniture is the most biographical of my novels. I tried to include in it everything I knew about my mother who died when I was two and half. The adults around me seldom talked about her—she won a medal for high jumping, she became a nurse, she married my father—but several of them did mention her relationship with the supernatural. Those brief accounts became the rising action and the conflict of my novel.
In writing the novel—it took twelve years and many revisions—I was looking for my own thin space. I hoped that writing about my mother would bring back memories of her. That I would at last have a small part of her to carry around. It didn't, but it did give me a sense of what I'd lost. And I do remain acutely interested in those moments when the boundaries between various realities vanish. You can see me flirting with this with the fifteen-year-old Zoe who sometimes, briefly, leaves her body. And, in a different way, with Lily, Duncan's beloved dog, whom some people believe talks.
I do remain acutely interested in those moments when the boundaries between various realities vanish.
I always feel that you are the cagiest of authors, and that if I'm not careful, I will miss some crucial information. That happened over and over with The Boy in the Field. I wonder if you surprise yourself while you're writing as much as you surprise this reader?
One of my private rules for novel writing is that I have to know the ending before I begin. The ending may change in the writing, but I have to have a destination. That doesn't mean there aren't many surprises. In the case of The Boy in the Field, I got lost many times as I struggled to figure out the route. How would each of the Lang siblings get to know more about the boy? How would the quests they each embark on after finding him play out? Along the way there were many moments of serendipity. One occurred while reading a New Yorker profile about a writer of detective novels. The writer—I forget her name—claimed that the detective is the good person walking into the valley of shadow. In beginning my novel with the finding of a body, I was deliberately using the central trope of most detective stories before I swerved into my own territory. Her remark made me decide to do something I hadn't considered, namely include a detective as a vital minor character.
He's a wonderful addition. He does lead them forward, doesn't he? And we haven't mentioned this, but the boy awakens briefly before being transported to the hospital. He manages to say one word, which each of the children hears differently. It seemed very private to each of them and gave us readers some intriguing red herrings to follow along with them. Can you talk about that a little?
Yes, I wanted the boy, Karel, to say one word which would seem very meaningful and which would also show the unique ways in which Matthew, Zoe, and Duncan experience those moments in the field. The three words are like veiled signposts to what happens in the novel.
I had the feeling that as you wrote, you were struggling with outcomes: wanting a happy ending for Karel; for Zoe; for Matthew, her older brother; for Duncan, her younger brother and an artist. Can you tell us a bit about that?
I didn't want to take anything for granted or to have anything be a foregone conclusion. Readers are always on the side of romance; if two remotely promising people meet, we fan the flames. I wanted to use those expectations and to subvert them. I recently read Willa Cather's Lucy Gayheart, and I love how she lets Lucy (and the reader) get a version of what she wants only to totally demolish her and our expectations. From one paragraph to the next Cather thrusts us out of the world of romance and into the world of accidents. After finding the boy, Matthew, Zoe and Duncan, each embark on a separate quest. I wanted readers to feel how much was at stake for them and how easily things could go otherwise.
I would love to hear about how you came to structure the book in short-ish sections, each devoted to one of the children.
I originally fantasized using some version of the omniscient voice throughout; it seemed a pleasingly grown up thing to do. But using a close third person, and short sections, allowed me to juxtapose the differences between the siblings more acutely. I also liked the way the short sections created suspense. In recent years each of my novels has been propelled, in part, by an aesthetic ambition. My last novel, Mercury, was my attempt to write a political novel. I've always loved the short novel as a form—think of James Baldwin's Giovanni's Room or Penelope Fitzgerald's The Coming of Spring. The Boy in the Field is my attempt to write a short novel in which a good deal happens.
It is thrillingly successful, if you don't mind my saying so. This book feels to me like a distillation of the themes you've explored in your nine previous works of fiction: loss; the fact or feeling of being orphaned; family, its power and pain; and, of course, the astonishing mysteries of love. In Banishing Verona, for example, your hero (and he is) is an autistic young man whose life is changed by a tornado of a girl called Verona. All these themes are present in Gemma, your homage to Jane Eyre, and here again in The Boy. This book strikes me as a clear stream of mountain water, fresh and invigorating. It is quite short as novels go, but it is crystalline in covering a wide range of important topics without fanfare. How did you arrive at this nearly perfect book?
Thank you, Mari, for these lovely words. Like you, in your beautiful first novel The Pelton Papers, I was partly inspired by a painter, in my case the Italian artist Giorgio Morandi. Morandi becomes Duncan's favorite painter. I chose him because I find his work—he paints the same four or five bottles over and over again—inspiring. His ability to look, and keep looking, made me think about what I was trying to achieve beneath the surface action of the prose. You're right, I have explored orphans before, but as I embarked on The Boy in the Field, a large new fact emerged in my life. Since my father died, when I was twenty-two, I've believed myself to have no living relatives. A few years ago, I discovered that I have quite a lot of them; they all happen to live in Australia.
Oh, my! That is astounding!
In 2018 I went to meet them. For the first time in forty years I found myself in the presence of other people who share my DNA, albeit a small fraction. The experience made me think a good deal about this mysterious thing called family. When I came back to my desk, I tried to give some of my own sense of wonder to Duncan, who is adopted, and to his siblings as they grapple with the aftermath of finding the boy.
I think that sense of wonder vibrates throughout the book. I would venture to opine that without it, it's very hard to write fiction.
Fiction does get written in all kinds of ways but I think in the kind we write, the characters always keep back a few secrets, and yes, there is a sense of wonder. In The Pelton Papers you very gracefully allow your heroine Agnes Pelton to keep her love life largely secret.
You have affected the lives of so many students, myself very much included. Can you talk about the role teaching plays in your writing?
I now teach one term a year at the Iowa Writers' Workshop where I have wonderful students. I do find myself deeply drawn into their work and am often thinking about their characters when my own need help. Teaching reminds me that we all read differently and that nearly all of us need early readers. I used to think that I would eventually graduate from needing a reader and be able to find and fix the problems in my own work. Now I think one of the key jobs of the young writer is to become a good reader for other people's work and to find good readers for her own. In my own case, this person is Andrea Barrett, the author of a number of brilliant novels and collections of stories.
Teaching also introduces me to fabulous new voices, challenges my aesthetics and prejudices, shows me new emotions and aspects of character coming onto the page, and helps me to recognize, and hopefully avoid, clichés. There are many roads to becoming a better writer but one is surely through teaching.
A beautiful way of concluding our conversation. Thank you, Margot, and congratulations on The Boy in the Field.