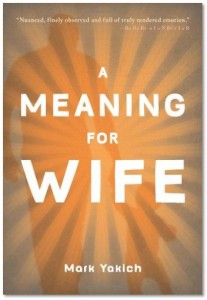 "There are people who talk about themselves in the first person, people who talk about themselves in the third person, and people who don't talk about themselves at all," one character tells the narrator of Mark Yakich's first novel, A Meaning for Wife (Ig Publishing, 2011). "Naturally," she continues, "you're in that last category."
It is a flawed argument. As the narrator makes clear for just under 200 pages, there are also people who talk about themselves in the second person. The character shares a number of qualities with his creator: a last name that rhymes with "jock itch"; a son named Owen; residence in New Orleans. One cannot help but wonder to what extent Yakich is using the second person to talk about himself as well.
That potential juxtaposition is wrenching, since the narrator of A Meaning for Wife is a recent widower, whose wife's unexpected death hovers over nearly every page of this book, set during the weekend of the narrator's twentieth high-school reunion (class of '88). Bringing his toddler back to his parents' home for the occasion, the narrator faces plenty of demons from his past, including his father's schizophrenia. But somehow, Yakich infuses this story with humor.
Readers can have strong reactions—not always positive—to the second-person point of view. Most of us can think of a handful of highly successful short stories that rely on this narrative technique; successful novels with second-person narrators, however, seem fewer. Since I'm continuing to experiment with second-person storytelling in my own writing, I wanted to see how Yakich managed to sustain his narrator's voice for the length of an entire book.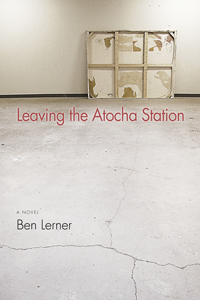 I discovered that at least two writerly tools helped him: dialogue, and plenty of narration that comes from but is not necessarily about the narrator.
A brief, intriguing mention in the December 2011/January 2012 issue of Shelf Unbound magazine led me to this novel from Ig Publishing, which also brought us Jacob Paul's excellent Sarah/Sara. That Yakich's primary literary reputation is as a poet also drew me as I recently read another debut novel from a poet—Ben Lerner's Leaving the Atocha Station. It turned out to be one of the most impressive books I read last year. A Meaning for Wife sets a high bar for 2012, too.
---
Further Links and Resources