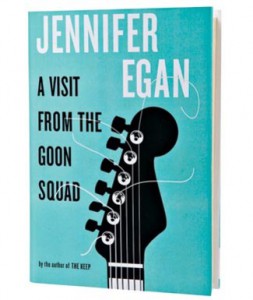 You could argue, in this era of iTunes, with the music industry rapidly transforming itself, that the traditional rock album is dead. And to paraphrase Nietzsche, we killed it.
With an economy on the rocks and limited disposable income among music buyers, there's good reason to favor individual brilliance in quick flashes over an album's collective crescendo. In a generation of "Pointers," the relationship between and among songs on an album—its narrative—is all but lost in favor of hit single after single.
But in Jennifer Egan's latest book, A Visit from the Goon Squad, an array of stories mix into a cohesive novel, each chapter self-contained yet fluid as the grooves of an LP. Structurally, the book flashes forward in one section only to skip back in the next, shifting the protagonist's point of view in each chapter. And yet, unlike the fragmented, seemingly unconnected world of the Shuffle, where randomization is celebrated over construction, A Visit from the Goon Squad reads as a whole, as tight as the pickup on a single-coil Fender, locked and loaded.
Most of the characters in these stories cross paths at one point or another with Bennie Salazar, whom we meet in the first chapter, "The Gold Cure." Casting him as a fading music exec at first encounter, the narrative then rewinds to catch him as a young idealist through the eyes of a teenage female friend. As she views him, "Bennie has light brown skin and excellent eyes, and he irons his hair in a Mohawk as shiny black as a virgin record."
In subsequent chapters, we also inhabit the points of view of Bennie's ex-wife, publicist, friend, mentor, assistant, employee, and the musicians themselves, whose careers interlock with his. Taken together, Bennie's narrative personifies the rise and fall of rock's industrial commodification, its glory days and highway to hell.
At the novel's heart is the role of music as both an agent and subject of nostalgia. Rock acts as a bygone era and the conduit on which we may resurrect what has been lost:
He sensed Sasha listening closely and toyed with the idea that he was confessing to her his disillusionment—his hatred for the industry he'd given life to. He began weighing each musical choice, drawing out his argument through the songs themselves—Patti Smith's ragged poetry (but why did she quit?), the jock hardcore of Black Flag and the Circle Jerks giving way to alternative, that great compromise, down down down to the singles he'd just today been petitioning radio stations to add, husks of music, lifeless and cold as the squares of office neon cutting the blue twilight.
The struggle to recover some past ideal permeates the story lines of multiple characters, this need to recapture anything and everything; from the national consciousness before 9/11 to the name of a lover who has disappeared. Beauty, fame, fortune, family, physical health—these are the obsessions of protagonists desperately trying to retrieve something they hadn't known they needed the first time around. A journalist replays his transgressions with a 19-year-old movie star from the confines of his prison cell. An ousted socialite scrambles for relevance at the risk of endangering her young daughter. A father takes his children and new girlfriend on a Safari in hopes of achieving previous nuclear harmony. An uncle sets out to find his missing niece and instead mines the museums of Naples for reflections of his estranged wife.
Each of these characters is poised for a reckoning, at the crossroads of something devilish. At times it is unclear whether music (and its hard-knock underworld) is at the price of or the ticket to the soul. Is music-as-a-kind-of-religion the spiritual destination, or the catalyst of decline? One middle-aged character wonders about the disintegration of wilder times into growing despondency: "Had they somehow brought it on?"
Egan raises these questions through sparkling wit and lyrical prose. As important as music becomes to the characters and the narrative, language itself (and music as language and language as music), emerges as the real main character. One particularly moving chapter, told in the voice of 12-year-old Alison Blake about her older brother Lincoln, is written entirely in power-point slides with Venn diagrams, flow charts, triangle graphs, etc.—effectively communicating how family members misinterpret each other, the cruel opacity of subtext. This type of writing through symbols might, in lesser hands, have become gimmicky, but in Egan's case, there's a frisson in piecing out her emotional geometries.
Lincoln is obsessed with Great Rock and Roll Pauses, or the seconds of rests within songs, little breathers, four beats, two beats, and where in the song they occur. These musical rests also mirror literary silences—white spaces, page divides, chapter breaks, section groupings— what goes unsaid. In a poignant irony, Lincoln's cataloguing of these musical absences is actually the fullest expression of feeling he can convey. So that "Hey, Dad, there's a partial silence at the end of 'Fly Like an Eagle,' with a sort of rushing sound in the background that I think is supposed to be the wind or maybe time rushing past!" actually is Lincoln's attempt at "I love you, Dad" after seven layers of filtration.
While Alison feels compelled to chart the spouting of her brother's pause-trivia, Rebecca–the academic wife of a freelance buzz-creator in the music biz–undertakes a project of her own, studying the words that are suppose to carry meaning, and have, like so much else in her book, lost their impact:
Her new book was on the phenomenon of word casings, a term she'd invented for words that no longer had meaning outside quotation marks. English was full of these empty words – "friend," and "real" and "surge" and "change," words that had been shucked of their meanings and reduced to husks. Some like "identity" "search" and "space" had clearly been drained of their life by their Web usage. With others, the reasons were more complex; how had "American" become an ironic term? How had "democracy" come to be used in an arch, mocking way?
Egan's prose never suffers from casings, and that's a testament to her acute ear and keen perception, the cadence of how to make words sing.
Time plays as "a goon" in these stories, a dark angel, the algebraic unknown; how you get from a to b, xs and os. Proust's epigraph highlights all the suggestiveness of the physical, sensual, and associative cues, and this canonical morsel echoes throughout the novel.
T.S. Eliot once observed, "you are the music while the music lasts." The characters in A Visit From the Goon Squad, each in his or her own way, are trying to extend the melody, to shore off the fragments of an increasingly silent and tone-deaf world.
Throughout the book there persists a tension between wanting and not wanting to know what's real—between wanting not to care, and wanting to get back that sense of caring too much. Of wanting to be an adult when you're a kid, and a kid when you're an adult. Similarly, in readers and listeners alike there resonates a certain desire for telepathy, to be at one with something larger.
Like a concert, a good book can draw you in and sweep you to a different place. And after it's over, ears ringing, lyrics rolling through your mind on the way home, remembering the way the light poured out over the stage, you can say it—you were there.
Further Reading
– While exploring Egan's inventively designed website, you can read an excerpt from Chapter 12 of A Visit from the Goon Squad. Look inside the book via Random House; the publisher's site also offers a guide for readers.
– Then read about the story behind Egan's website–including its "Gallery of a Writer's Impulses"–on the New York Times Papercuts blog.
– Here are some recent interviews with Egan–at Mary: A Literary Quarterly; on Hits Daily Double; on NPR's The Takeaway; on NPR's Morning Edition; from the Paris Review Daily blog; and in Guernica–and here's a profile of the author by Edan Lepucki at The Millions. Bonus: This Rumpus interview brings PowerPoint savvy into the game.
– Learn more about Egan's previous novels: The Keep; Look at Me; and The Invisible Circus; and her collection, Emerald City and Other Stories.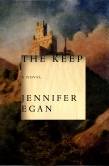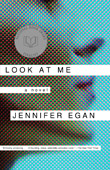 – On 9/27/2001, Egan wrote this essay (for Slate) reflecting on the eerie experience–and aftermath–of writing a terrorist character in Look at Me, of "imagining the unthinkable."
– Via the author's website, read "The Bipolar Puzzle," her cover story from the Sept. 14, 2008 issue of the New York Times Magazine.
– This video highlights Egan's oral history project-in-progress about women who worked at the Brooklyn Navy Yard during WWII, via WORKS IN PROGRESS, a new TV series in development from creator Ina Howard-Parker:
WORKS IN PROGRESS: Jennifer Egan from Ina Howard-Parker on Vimeo.
– Watch and listen to Egan read at UPenn's Kelly Writers House in 2006: