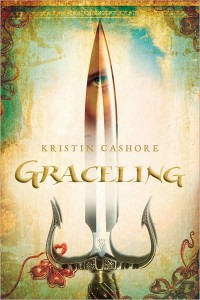 Kristin Cashore's debut novel Graceling is an engaging, action-driven fantasy that will please young adult and adult readers alike.
In the Seven Kingdoms, some people are born with skills called Graces. A Grace might take the shape of a special ability to dance, tell stories, or create delectable dishes in the kitchen. Katsa's unfortunate Grace is the ability to kill, a skill her Uncle Randa, King of the Middluns, takes advantage of. Katsa carries out his dirty work, torturing and sometimes killing those who displease her uncle.
But Katsa has her own ideas about justice, and her uncle's lawlessness prompts her to create a secret Council for the good of those wronged by the powerful. While working for the Council, she encounters Po, a young man Graced with the ability to fight. The two uncover a secret so terrible it threatens all of the seven kingdoms, and together, they embark on a journey to expose this secret and save those who have already been harmed by it.
In a genre populated with Gossip Girls and A-Listers, Katsa stands out for her strength, her intelligence, and her will to live life as she wants, even if that desire sometimes hurts those closest to her. Cashore's story may be set in a fantasy world, but her heroine deals with real issues that many strong young women face. While Katsa can survive any type of combat thrown her way, she struggles with self-acceptance and self-esteem. She is uncertain about her newfound feelings, physical and emotional, for her traveling companion, Po. Cashore doesn't shy away from the sexual nature of Katsa's feelings, and gives her main character an interesting perspective on this dilemma:
What was the difference between a husband and a lover?

If she took Po as her husband, she would be making promises about a future she couldn't yet see. For once she became his wife, she would be his wife forever.

And, no matter how much freedom Po gave her, she would always know that it was a gift. Her freedom would not be her own; it would be Po's to give or to withhold. That he never would withhold it made no difference. If it did not come from her, it was not really hers.
If Po were her lover, would she feel captured, cornered into a sense of forever? Or would she still have the freedom that sprang from herself?
The novel's strength is in its characters, and the well-described settings and scenery never overshadow the more important business of this book—Katsa's self-discovery. Cashore is adept at presenting her main character's soul searching in a fresh way, one that fits Katsa's particular personality. And she gives all members of the supporting cast full and distinct identities.
Graceling is the first book in a series set in The Seven Kingdoms. Readers of Katsa's story will anxiously await Cashore's next offering, Fire, forthcoming in October 2009 from Harcourt.
Read an excerpt from Chapter 1 of Graceling.