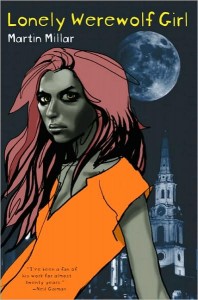 The head of the MacRinnalch clan is dead, and Kalix MacRinnalch might be responsible. Relentlessly pursued by hunters and by her family, the lonely werewolf girl makes her way through modern-day London downing laudanum as a temporary escape from her troubles. But after selling a protective pendant to pay for her addiction, Kalix must rely on the kindness of two human strangers – Daniel and Moonglow – in order to regain her health and reconcile with her sister, the Werewolf Enchantress, long enough to get a new pendant.
The Enchantress has troubles of her own. An up-and-coming fashion designer, she's promised to clothe the Fire Queen for an important celebration. While the deadline for the celebration looms, her mother and brothers stage power plays to determine who will next head the powerful Scottish werewolf clan.
In Lonely Werewolf Girl, Martin Millar does a fantastic job of blending the worlds of fantasy and reality. His werewolves embody human traits—love, jealousy, familial exasperation—while retaining their bite when it counts. They are true to their age and position; Kalix is moody and sullen as most teenagers—imagining the world is against her. The Enchantress is a typical harried businesswoman, married to her fashion house and annoyed by her mother's endless plotting phone calls. Moonglow, Kalix's human protectress is studious, earthy, and more concerned with Kalix's eating disorder than alarmed at being thrust into a dangerous, otherworldly situation.
Millar is a student of the urban. His cultural references are spot-on, and it's remarkably fun to read about werewolves, elementals, and humans bonding over shared love of clothes or Joan Jett and the Runaways. A side plot involving two werewolf punk-rock sisters is particularly enchanting.
But where Millar really excels is in writing relationships. He understands perfectly the petty jealousies between brothers, the first love of teenagers, the unrequited longing of one good friend for another, and the nervousness of a lonely werewolf girl trying to forge her first friendships.
The large cast of characters may seem daunting to readers, but Millar keeps the action moving with brief chapters written from multiple points of view. The story never disappoints, and it felt almost tragic to come to its end. It's impossible to read Lonely Werewolf Girl without becoming a fan of Millar's writing. Let's hope that he'll continue the series and make teen werewolves as popular as Stephenie Meyer's teen vampires. In the meantime, readers in the U.S. can look forward to picking up Millar's other novels, also from Soft Skill Press – The Good Fairies of New York (2006) and Suzy, Led Zeppelin, and Me (2008).