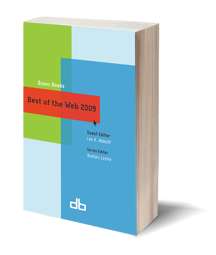 Each summer Dzanc Books releases The Best of the Web, an annual anthology of the year's best poetry, fiction, and nonfiction that was published online. Of all the "Best of" collections that come out each year, this anthology, with its multi-genre interests, probably has the most in common with The Best American Non-Required Reading series. And like that anthology, this one also shares an interest in work that is driven by voice, that isn't afraid to test the limits of its form.
Perhaps this accounts for another similarity between the anthologies: a decision not to identify the selections by genre. That is to say, there is no indication in either the Table of Contents or prefacing the pieces themselves to categorize the work as either "fiction" or "nonfiction" or "poetry." Yes, in most cases this distinction becomes fairly obvious. Especially with the poetry. Yet even here, because of an editorial appreciation for flash fiction, particularly short-shorts with a keen attention to the "mouth-feel" of language, the borders of what we might define as poetry or prose are put into question as well.
One such writer, Blake Butler, who has several pieces featured in this year's collection, says the following about his work in a brief interview included in the anthology:
Most often, as a reader, the text I feel most moved by is that which inflicts my brain or body as if physically manipulating me through the paper. Condoning physical responses via the simulative act of language is, for me, in the same mind of the way the body is altered via states entered in sleeping…
Similarly, the nonfiction selections press the boundaries of their form. With a few exceptions, the essays are lyrical in structure, propelled forward by image and sound as much as narrative or analytical development.
I like this. And I think I also like the formatting decision not to include genre markers, if for no other reason than it once again asks us to think about "intention" in writing. And, just as importantly, what we hope to encounter on the page when we enter into the intimate relationship that exists between reader and writer. As a traditionalist, I'll admit that it does make a difference to me knowing whether writing is fiction or not. Scott Russell Sanders describes the importance of this distinction in his essay "The Singular First Person" by trying to explain why it was problematic for him to have one of his essays mistakenly identified as fiction in a scholarly article. He writes:
The essay is distinguished from the short story, not by the presence or absence of literary devices, not by tone or theme or subject, but by the writer's stance toward the material. In composing an essay about what it was like to grow up on that military base, I meant something quite different from what I mean when concocting a story. I meant to preserve and record and help give voice to a reality that existed independently of me. I meant to pay my respects to a minor passage of history in an out-of-the-way place. I felt responsible to the truth as known by other people. I wanted to speak directly out of my own life into the lives of others.
That said, I enjoyed the process of encountering each piece of writing "blind," so to speak, unattached to preconceived notions of form and removed from the surroundings of their original publications. Meeting the work in such an unencumbered fashion was not only a change from how I often sit down with a text, but also asked me to think about what defines good writing.
Perhaps all good anthologies prompt this question—what's included has been judged and selected, after all. But in addition to the work itself, the open structure of this collection also encourages an interesting conversation about style and aesthetics. Between these covers poetry bumps up against fiction; longer work is juxtaposed to shorter; traditional narrative meets the absurd; and canonical authors like Stephen Dixon share equal page space with writers who'd probably never identify themselves by that title.
Yet what pleases me most, perhaps, is the conversation that this anthology is not provoking: one that feels the need to justify its existence. With this second anthology a precedent has now been firmly established, one that recognizes, as this year's editor, Lee K. Abbott, does in the introduction: "It ain't where; it's what."
There is good work here. Perhaps that's all that needs to be said.
To purchase a copy of The Best of the Web 2009 and to support this project, please visit DZANC books.
Further Resources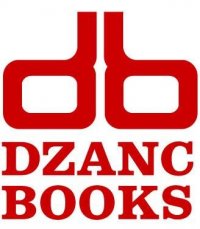 – DZANC books is a non-profit founded in 2006 by Steve Gillis and Dan Wickett to "advance great writing and champion those writers who don't fit neatly into the marketing niches of for-profit presses."
– Dan Wickett is also the founder of the Emerging Writers Network. The EWN blog was recognized as one of the ten best lit blogs in the country last year.
– For links to Best of the Web 2009 authors guest blogging about the release of the anthology, please visit this EWN blog post.
– Blake Butler edits the internet lit magazine blog HTML Giant:
– Here is an interview with Scott Russell Sanders in Fourth Genre, where his essay "The Singular First Person" was first published.