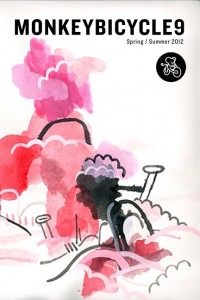 As a neighbor to celebrity-strewn Hollywood, I could start this feature the easy way, which is to ask you not to stare directly at the spotlights crisscrossing high above Monkeybicycle HQ: Sarah Silverman, David Cross, Blake Butler, Stephen Elliott, Steve Almond, Samantha Hunt, Davy Rothbart …
No, it's not the usual Mount Rushmore of Pushcart Winners. It's better. From that odd name onward, Monkeybicycle isn't about living up to classic academic ideals—it's about extending them with no fear of appealing to the mass. Though they publish plenty of serious literary stories, they're also unabashed fans of funny writing, which in stuffy literary circles is just as bad as getting caught reading Fifty Shades of Grey.
It's this mix of serious and irreverent that convinced Dzanc to make Monkeybicycle an imprint in 2007, and it's why you and I have the opportunity to laugh at contributions like Patton Oswalt's in Monkeybicycle5, a humor issue in which Oswalt argues for the societal utility of allowing boys to find Playboy magazines in the woods:
To this day, the smell of mildew and pine leaves makes me erect. That's why I can't ever visit my grandma at Christmas. But that's a column I'm writing for The Atlantic Monthly.

We must buy copies of Playboy and leave them in the woods for the next generation. Like Johnny Pervertseeds, a found Playboy will help grow a healthy entrepreneurial stock of young men. Because a found Playboy, when you're eleven and twelve, is currency. It can be traded for goods and services. It can be bartered for more Playboys, and then, once your stock has risen, be traded for luxuries.
After that friendly jab at The Atlantic Monthly back in 2008, it's all the funnier that two years later, The Atlantic Wire described Oswalt as having "…a healthy respect for pop culture."
Is that why he wrote for Monkeybicycle, then? Perhaps.
Is that why we should read it? Absolutely.
In 2002, Founder/Editor Steven Seighman set out to publish work writers he and his team believed in; inspired by McSweeney's and fueled by Seattle's literary scene, Monkeybicycle launched with a desire to provide impactful voices, no matter the form. After getting listed twice in the Best American Nonrequired Reading anthologies, however, the journal is just as respected for its curating as for its tastemaking.
Published twice weekly online but just twice annually in print, the last decade has seen Monkeybicycle grow as popular for its blog and podcast as for features like the "One Sentence Story" (try on this Twitter-told tale from Sarah Layden and tell me you wouldn't watch a Pete Shockley-led sitcom). And though new channels are inbound as Seighman and crew experiment with offerings of nonfiction, novel excerpts, and columns (they're hiring!), the journal's printed stories and poetry continue to provide a playground in which the editors experiment and innovate, no less now—as they celebrate their 10th anniversary—than when they started with a handful of Seattle-based authors.
Helping ring in the milestone in Monkeybicycle9? Poetry from Sandra Kolankiewicz, Jessica Levine, and "Indefinite Divisibility," a piece of flash fiction from J.P. Dancing Bear so ephemeral it could be poetry.
And then there are the stories: funny, heartbreaking, and—true to Monkeybicycle-form—unpredictable. James Freed's novel excerpt from The Illiterate epitomizes the latter, and as writers and readers, you'll appreciate the story's premise: Jones, who "recently finished his first novel and held an editorial position at a reputable culturally centered news magazine that inspired envy in his artistic-minded peers," wakes up unable to read or write (wouldn't that be nice, copyeditors!).  Jared Hohl experiments with form and identity in "My Different Looks," and Kelsi Sexton gives us "Rafting Event," a story of how lemurs ended up alone in Madagascar for at least 40 million years. The factual, almost-academic execution takes a turn, humanizing the lemurs and their processes, if not their personalities. It leaves you wondering if we might one day be written about similarly.
And then there's "Slim and Mrs. Burns" by Jack Garrett, the issue's launching pad and pacesetter. On the surface a tale about the recovery of stampeding cattle, Garrett's language kicks the issue off with such brute, raw, acutely authentic descriptions that you may be tempted to throw issue 9 into the woods like Oswalt threw his Playboys, a guidepost for future generations.  No joke: although most of the story is unquotable without a proper age-gate, that's what precisely makes it so remarkable.
Stories on evolution, stampedes, and illiterate authors. Movie stars to emerging writers. Poems to one-sentence-stories to novel excerpts. How else to describe such range? Monkeybicycle does it well with its tagline—"Literary things"—and they've built a cult following that hopes there are many more anniversaries to come.
---
We spoke with Steven Seighman over email about where Monkeybicycle came from, where it's speeding to next, and what we can look forward to once it gets there:
1. What is the role of Monkeybicycle in today's literary community, be it for readers or writers?

Our main goal is just to provide a place for great writers to find a home for their work. I know there are a million journals out there now, especially online. But we're celebrating ten years of doing this, so I hope that at least puts us close to the front of the list for writers when they send out their work. And for readers, we try to offer up a wide variety of content so that we can have a little something for everyone. It's important to me that we reach a wide range of tastes with our books and our online content.

2. How do you see Monkeybicycle's mission and tastes evolving in the next two years? Will the rise of digital publishing impact the composition of Monkeybicycle?

I think our mission will stay close to the same as it's been for the past ten years. But we do hope to expand a bit more with our web content. Right now we offer up two pieces of fiction and about five one-sentence stories per week. We'd like to provide something new on the site every day to bring visitors back again and again.

And, ironically, as digital publishing continues to grow, we're toying with the idea of putting out an additional print book per year—a short story collection or novella. We're still crunching the numbers on that though.

3. If you could put three items in a time capsule (or USB drive) to be opened in 1,000 years, that would provide a snapshot of Monkeybicycle's aesthetic today, what would they be?

Hmm, that's a tough one. I think I'd have to say a copy of our sixth print issue (to me this is the most varied issue and has some of our most compelling work in it), a digital copy of Wes Anderson's The Royal Tennenbaums, and a copy of Wilco's Wilco (the album). I don't know if it's just that I really like those last two things. But I do believe that in some way, they could be visual and audio representations of what we strive for with Monkeybicycle.

4. What album is playing on the Monkeybicycle stereo these days?

Our office is a virtual one, so I can't speak for any of the other Monkeybicycle staff members, but just about the only thing that has gotten any play on my iPod for the past month (and I know I'm way late to the party on this, but I'm so happy to finally be on board) is St. Vincent's Strange Mercy. I am so in love with its beautiful eccentricity. And I listen to a million comedy podcasts every week as well. My day isn't complete without some laughs first thing in the morning.
That virtual office of Monkeybicycle is busy this summer, offering a $1.99 e-version of Monkeybicyle8 as well as the aforementioned ninth anniversary issue, available here. Don't forget to bookmark and subscribe to the Monkeybicycle website for literary goodness, submission information, and those wonderful One Sentence Stories. And be sure to connect socially, too, as they keep things fresh on Facebook, Twitter, and even Pinterest.
---
As a special bonus to readers of Fiction Writers Review, we'll be giving away three free subscriptions to Monkeybicycle! If you'd like to be eligible for this week's drawing (and all future ones), please visit our Twitter Page and "follow" us.
For those of you already in the FWR Twitter family, you know our presence there exists in part to inform followers of what's happening here on the site, as well as to update the community on literary trends, worthwhile links, etc. We couldn't be happier to see this role expand in a way that allows us to put journals we love in the hands of readers who will love them too.