"Why do we wake each night in that spiritless moment between worlds, we mothers and daughters and wives?" So asks Desiree Cooper, opening her stunning and profoundly philosophical collection Know the Mother with a litany of questions about the sweetness and horrors of motherly vigilance. In 31 pieces of flash fiction, Cooper builds the case that such lived experiences often manifest not in thought but in sense, not in abstraction or drawn out histories but in rosewater perfumes, uncoiling muscles, and swift puffs of air on the back of the neck.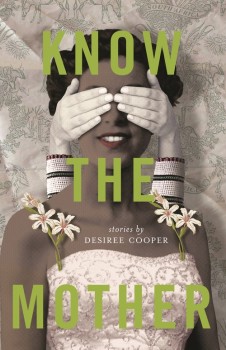 The French phenomenologist Maurice Merleau-Ponty shared Cooper's interest in individually felt worlds, taking the emphasis on perception so far as to blame it for all known creation. "The body is our general medium for having a world," he wrote, giving our dumb flesh such a wonderful amount of credit. And why not? Don't our bodies call the world into being? What's sight without our blinking eyes, taking in whatever we randomly see, rough stuff without our hands to reach for it? Who could care for a teething, screaming toddler without tumbling into this phenomenological abyss? "One's own body is in the world just as the heart is in the organism: it continuously breathes life into the visible spectacle, animates it and nourishes it from within, and forms a system with it." This astonishing flip–that human perception is the world's foundation–comes to the fore again and again in the bright worlds of Cooper's meditations on care.
In the story "On the Rim," a grieving widow takes her children on vacation:
By noon, we reached the falls of the people of the blue-green water. The boys whooped and splashed in. A rotting log had fallen into the cool basin and they lassoed it for a float. They waved for me to join them, but I could no longer trust places where my feet didn't touch the ground. They floated happily without me, deeper and deeper into the tourmaline water.
The widening gulf of perception–altered by her grief, her care, their youth–makes even this shared moment inaccessible. But mere sentences later the family stands united on the canyon's rim, and we see how the mother's sense of the scene accounts for all of them, four fold. Maybe five-fold.
The boys fell as silent as startled deer. The sun had already set, and the perfect darkness was both fearsome and familiar. The charcoal abyss below sucked away all sound. My blood rivered in the deep crevice of the ancient stone.
Cooper was a founding board member of Cave Canem and has received Kimbilio and Kresge fellowships, as well as a Pulitzer Prize nomination for her long career in journalism. Still the slimness of this volume may risk its being critically overlooked, as might the settings framing many of the stories. Detroit's black socialite elite could be imagined as the subject of a book in a very different, aspirational-chick-lit style, and the lawyers and galas and Palmer Woods homes Cooper describes are interesting enough (and still so rarely depicted in literary fiction) that they might distract readers from the depth of the book's central questions.
Yet this same deceptive particularity of detail is absolutely crucial to the project. Many contemporary masters of the flash-fiction form (Amelia Gray and Lydia Davis, for example, following writers like Calvino and Borges) favor shorthand constructs over elaborate characterization, deploying succinct conceptual play to access moments of aporia. Cooper opts instead for a kind of submersion in context, letting the powers of her visual and physical descriptions catalyze a kind of sensory wonder. This effect is only made possible by her talent for sketching full feeling and elaborate history in fleet, simple lines which retain strange musicality. In the astonishing story "Princess Lily," bodies roll and collide, a baby with "a round head and skinny body" looks "just like a kokeshi doll" and candy stripers "worked in the airless caves that served as hospitals, picking maggots from the soldier's festering wounds with chopsticks." Elsewhere, it is absence that stuns: "My skin is scent free, my nails painted clear." "Brother Man eats from everyone's plate but his own."
Of course it is no mere coincidence that the women of Know the Mother are so very sensitive. Feminine performativity requires a certain ability to read a room, and, further, heightened attenuation often accompanies experiences of visceral fear. In many of these stories, keen sensibilities and paranoia lend depth to rituals of mundane domestic care–grocery store runs and witch hazel sponge baths for the bedridden elderly–and in others, this pervasive sharpened awareness links directly with the continual sense of danger which pervades many black women's lives.
This theme of nurture and danger builds as characters discover they've miscarried, or face home intruders, or are run off the highway by maniac racists shouting slurs. Waiting up for her daughter, one mother's world ebbs and flows with the acuity particular to parental terror: "All evening, I've been rising eagerly each time I see headlights cutting the darkness. I fall back into the sorrowful cushions whenever the cars slow and pick some other anxious mother's driveway." On her daughter's return her reactions can only jostle up against one another: "I have been waiting for this moment all night, but now I'm afraid of how much I hate you… I want to hold you, pummel you, smell the sweet curve of your neck." Vigilance and calculation are, after all, modes of totalizing perception. This collection make clear that to know in a mothering sense, to live the medium of the mothering body, is to experience worlds so amplified that even their briefest glimpsed stories can both terrify and beautifully overwhelm.