Mannequin Girl (W.W. Norton), Ellen Litman's second novel, is a coming-of-age story and a family drama set in a Moscow boarding school for children with scoliosis. Protagonist Kat is six years old, entering first grade as the book opens. Soon, Kat's father and mother resign other teaching posts and come to teach literature and coach the drama club at her school. Her parents are artistic, bohemian, and Jewish. The story unfolds over eight years, 1980 – 1988, tracing Kat's growing understanding of herself, her family, and the grave societal and personal implications of politics and religion.
Part of the appeal of every coming-of-age story is the resonance with each individual experience of the universal struggle and metamorphosis of growing up:  the inevitable loss of illusions, the rebellions, the rollercoaster of love and heartbreak, the exhilarating discoveries of talent and potential. Every adolescent grapples with questions of identity, independence, and self-determination. Litman, who grew up in Moscow and immigrated to Pittsburgh in 1992, explores the additional risks and complications faced by a member of a stigmatized minority in a repressive society. Every adolescent chafes against confinement. Kat presses against the limits of rules, regulations, expectations, as well as prejudice and stigma while literally caged by the brace she wears to force her curved spine straight.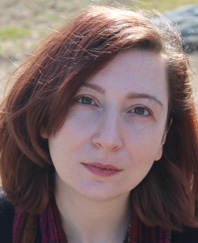 Litman writes in close third person from her protagonist's point of view, using present tense to contribute to the narrative's immediacy. Kat is sharp-eyed and sharp-witted, an old soul, perceptive beyond her years – reminiscent of Scout Finch in To Kill a Mockingbird (though occasionally Kat's voice seems a little too wise, too adult to completely convince). The girl observes the student world, the school world, her parents' marriage, and herself with an acerbic, critical gaze. Here, for example, is six year old Kat's first glimpse of her classmates in their braces:  "Their heads are held up by white plastic collars; thin metal slats run alongside their necks; and beyond that, she can see the shape of something cumbersome, like armor, gripping them under their blue uniform jackets and pants." Once Kat is fitted for her own brace, she wears it dutifully for eight years, aspiring to perfect posture. She yearns to become a beauty like her mother, to become an actress (one of her mother's many thwarted dreams), to become a "Mannequin Girl." Within a school culture where everyone has scoliosis and wears a brace, the braces become unremarkable, almost invisible.  But when Kat ventures outside she is reminded of her difference.
No wonder boarding schools are among the favorite settings for coming-of-age stories. An enclosed, sequestered community creates the perfect hothouse for the dramas of cliques and bullies, friends and enemies, crushes and first love.  In a boarding school novel, the games of who's in and who's out unfold – sometimes with only a little more civility than on the island of Lord of the Flies. Litman's book will find its place in the tradition, and will be enjoyed by adult as well as young adult readers. Mannequin Girl has been compared to prior work including A Separate Peace and Prep but most strongly reminded me of a lesser known British school story, Caroline Glyn's Don't Knock the Corners Off (1963). I read it avidly as a young teen myself and still recall Glyn's observant, artistic protagonist – an aspiring novelist who struggles against pressure to fit in, to conform, and observes both her bohemian family and the world around her with a keen, prescient eye. Mannequin Girl tells a universal and a particular story about the rigors and rewards of growing up. For all teenagers, the adult world is both an alluring and a repressive regime.