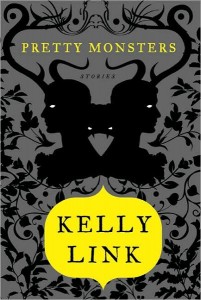 I want my life to be a Kelly Link story. I mean it, even though many of the characters in her stories are a little lost, literally or emotionally, and even though others are in danger.
Pretty Monsters (Viking, 2008) is intended to be a young adult collection of short stories. This in itself is new—there aren't many YA story collections, are there? But even if there are, there is nothing like Kelly Link, and this collection bears no real resemblance to any typical YA book, except that the stories all involve children or teenagers. It's useful that a few of the stories in Pretty Monsters are republished from her earlier collections, Magic for Beginners and Stranger Things Happen, because I can't talk about Kelly Link without talking about the story "Stone Animals," which first appeared in the Best American Short Stories 2005, and then in Magic. It's a story that is summed up in one sentence on the back cover: "A family moves to their dream house in the suburbs, where gradually everything they have becomes haunted." And yet, that tells you almost nothing about how wonderful this story is. I still dream about it sometimes.
There was a period of almost a year after I first read it when, no matter what else I was reading, I wished it was "Stone Animals." I've read it a dozen times. I sort of want to be reading it right now.
But I can't tell you much more about "Stone Animals" because that might spoil it for you. That's the problem with reviewing Link's stories: they're so wonderfully weird and funny that all I can do is summarize a small corner of the plot, which gets the weirdness across but not the wonder.

About stories in both books, here are some summaries that inevitably fall short: In "The Hortlak" zombies and a girl who puts dogs to sleep visit two guys who work at an all-night convenience store. In "The Surfer," a paen to fantasy writers who have gone before, a flu virus keeps travelers quarantined in an airplane hangar in Costa Rica while they debate whether the aliens that visited Earth once before will ever return. This story is frighteningly prescient given recent swine-related events. In "The Constable of Abal" women sweep little ghosts out of the house each day. There's a scary and hilarious (yes, both) meta-campfire story, "Monster," and another, "the Specialist's Hat," that takes the bad babysitter cliché and turns it downright terrifying. I can't summarize the title story of
Pretty Monsters
. It intertwines two stories: a girls' bonding ritual with another girl's unrequited teenage crush and ends up in the countryside near Bucharest. It's awesome.
These stories are also really creepy, in a way that gets permanently under my skin. Link invents things and jumps from one invention to the other so quickly it's impossible to see where she's going. She takes the tropes of ordinary life and relationships and institutions and transforms them utterly: you'll never read a story of hers and guess how it's going to end. An excerpt from "The Hortlak":
The zombies came in, and he was polite to them, and failed to understand what they wanted, and sometimes real people came in and bought candy or cigarettes or beer. The zombies were never around when the real people were around, and Charley never showed up when the zombies were there. Charley looked like someone from a Greek play. Electra, or Cassandra. She looked like someone had just set her favorite city on fire.
That's typical of Link's writing: short, clear sentences and then a deadpan jump of description or dialog, or a narrative shift that makes the hair on the back of your neck stand up. But the most important thing about Kelly Link's stories is how they use her genius gift for creepy and weird invention to make real emotional impact. These are stories about loneliness and family struggles, about growing up and falling in love and about the dangers that are out there in the world. Some are quite political, and others deal with gender relations, losing grandparents, and growing up. But they're actually "about" so many things, and you might not notice because you're so focused on the zombies, and the handbag that has a village inside it, and the wizards.
Even if you own Magic for Beginners, it's worth buying Pretty Monsters both for the additional stories and for the gorgeous hardback with both cover and interior illustrations by Shaun Tan. One of my favorite stories that appears in both books is "Magic for Beginners," which, on the surface, is about a group of high school kids who are obsessed with a TV show called The Library. The show is a sort of fantasy Dark Shadows:
The Library is a pirate TV show. It's shown up once or twice on most network channels, but mostly it's on the kind of channels Jeremy thinks of as ghost channels. The ones that are just static, unless you're paying for several hundred channels of cable…Episodes of The Library have no regular schedule, no credits, and sometimes not even dialogue. One episode of The Library takes place inside the top drawer of a card catalog, in pitch dark, and it's all in Morse code with subtitles. Nothing else. No one has ever interviewed the actors, or stumbled across a set, a film crew, or script, although in one documentary-style episode, the actors filmed the crew, who all wore paper bags on their heads."

Through the show and the people who watch it Link addresses divorce, relationships with and between parents, disappointment, first love, and friendship. The Library isn't a metaphor for any of these things, it's the manifestation of them all. This is one of the stories I want to be inside. I want these to have been my teenage years, as difficult as they are for Jeremy at times. And that's what Kelly Link does best: in these stories the magical elements don't overshadow the real magic of the everyday, the sparks of humor and relationships and the fires those sparks ignite. I wish some of her inventions would cross over into the real world. Maybe not the zombies, but I want a mysterious and magical TV show to love, I want a ghost to keep in my pocket, and like Catherine, the newly transplanted suburban mom in "Stone Animals," I want to paint my living room the color Ghost Crab.
Further Resources
– Read the stories
"The Faery Handbag"
and
"The Hortlak"
(from both
Magic
and
Pretty Monsters
) on Link's website. You can also download the majority of
stories
from
Magic For Beginners
free!
– From Stranger Things Happen and Pretty Monsters, read the excellently creepy "The Specialist's Hat."
– Here's a great interview with Link (by Stephany Aulenback) on Maud Newton. (The photo of Link used above is borrowed from this article.) More conversations with the author: Link talking about Pretty Monsters on One Story's blog, interview in Meetinghouse (2008), BookEXPO video interview by DJ Jones (2008), interview on Publisher's Weekly (2008), interview on Strange Horizons (2005), interview by Gwenda Bond (aka Wonder Woman) on Edward Champion's Return of the Reluctant (2004).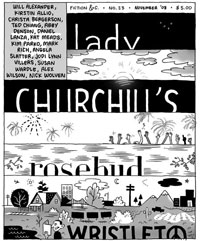 – Visit the website of Small Beer Press, the indie house founded and run by Kelly Link and her husband, Gavin J. Grant [Coming soon on FWR, a review of Couch (Small Beer, Nov. 2008).]
– Link and Grant also publish (twice yearly) the first-rate literary fantasy journal Lady Churchill's Rosebud Wristlet. Subscribe here.
– See more of Shaun Tan's wonderful artwork at his website.