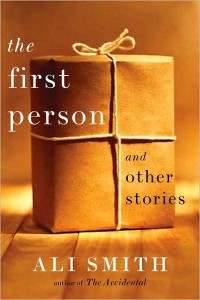 The dozen stories in The First Person (Pantheon, 2009), Ali Smith's latest collection, are deceptively simple: no verbal pyrotechnics, no otherworldly setting, no last-minute epiphanies, and most of the time, no traditional rising action or climax. They're told in a simple, conversational tone, often by a narrator who could be Ali Smith herself (sometimes she's even named Ali). But they stay with you long after you've finished reading them. They sneak up on you, camouflaged as innocuous little anecdotes about innocuous little interactions and misunderstandings, and only later do you realize they're asking the most fundamental questions that fiction, or life itself, can ask.
Everyone in The First Person seems to be telling stories, stories of the simplest, most everyday kind. Lovers tell stories about how they met, about former loves, about each other. Strangers tell each other Christmas stories in pubs; a schoolgirl tells the story of the execution of Mary, Queen of Scots, then the story of her mother's sudden change in personality. And people tell stories to themselves, as in "Writ," where the narrator's fourteen-year-old self sits at her kitchen table and reminds her of a long-forgotten but pivotal moment.
Some of the stories are true, deep memories that now hold particular resonance. "1983 was the year I was in love with Heyden," the narrator of "Astute Fiery Luxurious" recalls. "I haven't thought about her in years." Others are outright lies: in the title story, a couple "invent[s] a how-we-met story so that when we do meet each other's friends, round whatever table in whatever pub or restaurant or suburban dining room, we'll be protected." And finally, most powerfully, there are suppositions. "This is the kind of thing you'd do," the narrator of "The Second Person" tells her lover, then imagines a scene: "You'd go into that [music] shop and just buy an accordion. […] You would buy this accordion precisely because you can't play the accordion."
Dropped into these conversations, eavesdropping on these intimate truths and half-truths and what-ifs, you find yourself focusing on the spaces between people, the possibilities of connection. Do even lovers know each other? Can they ever really understand each other, let alone the stories the other person is telling?
Underlying all this is a deeper question: whether stories can help us form those connections. "True Short Story" wrestles with the role stories play in the face of illness and true tragedy. The narrator of "The Present" flees an awkward conversation with strangers, but when she imagines telling them a tale from her childhood, she realizes that the story itself will allow them to come together in the most basic way: "If I were back inside, if I were simply there, those two people would speak to each other again, they'd be able to." And in "Fidelio and Bess," a woman, sensing that her relationship is doomed, teases her lover by revising the story of Fidelio. "What if Fidelio had been written by Mozart?" she asks, then inserts Porgy from Porgy and Bess into the former opera. As the story progresses, we come to see that this is more than an academic question on the mutability of art: her attempts to rewrite the story are also a wish to transform the relationship into something different, something less constrictive, something greater. Character after character proffers a story to establish the understanding and connection they desire and desperately need.
And when those connections occur, they're often fleeting, but always breathtaking and transformative. "That kiss up against the building site," a woman recalls in "Writ," "fills the inside of my head again as if someone had opened a lid at the top of my skull, poured in a jug of warm water mixed with flower food, then arranged a bunch of spring flowers in me—cheerfulness, daffodils—using me as the vase." In the title story, an embrace between the narrator and her lover creates this amazing flash of transcendence:
You stand behind my chair and put your arms round me, then put them in under my shirt, your hands directly on me. You hold me very tight in under my clothes, and if there's a library anywhere near then someone just removed its roof, the shelves just flooded with sun and all the old books just remembered what it means to be bound in skin and to have a spine.
"The third person," Smith writes in the story of the same name, "is a box for the endless music that's there between people, waiting to be played." The same is true for all of the stories in this subtle collection, which play that waiting music just for a moment—just loud enough for us to hear it, and to marvel at it.
Further Resources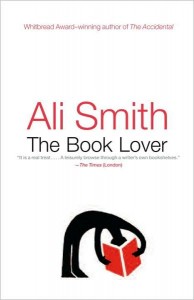 In the anthology The Book Lover (2008), Smith invites readers into the library that made her want to be a writer, offering up selections from Grace Paley, Margaret Atwood, Joseph Roth, Billie Holiday, and many others. Here is a link to two works from this collection, a poem, "The Poet Has Come Back…" by Atwood, and a story, "The Terrible Peacock" by Djuna Barnes.
– Here is an excerpt from Smith's 2007 retelling (set in Scotland) of Ovid's Iphis and Ianthe, Girl Meets Boy.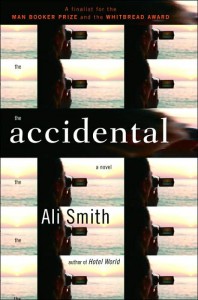 – Read a sample chapter from Smith's novel The Accidental (2006), winner of the Whitbread Novel Award.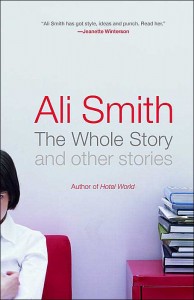 – Preview Smith's 2004 collection The Whole Story and Other Stories via GoogleBooks.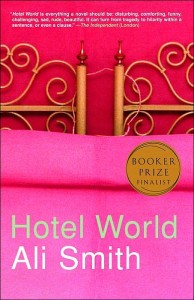 – Smith's Hotel World was a finalist for the Booker in 2001. Here is a sample chapter from the novel.
Here is a 2005 interview with Ali Smith from the Guardian.
Smith is also a playwright; this 2006 interview in Hi~Arts follows the premiere of her play The Seer, performed by the Dogstar Theatre Company.