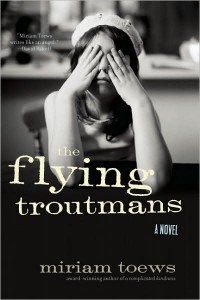 The tension of Miriam Toews' latest novel, The Flying Troutmans (Oct. 2008, Counterpoint), can be summed up by a single question: "What do you think the chances are of everything being OK?" A strung-out young stranger says these words to Hattie Troutman, the narrator of this dark, zany road-trip novel. Twenty-eight-year-old Hattie must answer this question numerous times on a quest to find her brother-in-law, Cherkis, that takes her from Manitoba to Twenty-Nine Palms, California.
Hattie returns from Paris, and a break-up with her self-absorbed boyfriend, to a family caving in on itself. Her troubled older sister, Min, is the mother of two precocious and off-beat kids – silent, brooding Logan, a fourteen-year-old with a habit of carving lines of poetry into any surface handy–and loquacious, flamboyant Thebes, a purple-haired eleven-year-old who channels the chaos of her life with frenetic stream-of-consciousness talking. When Hattie receives a panicked call from Thebes that Min is in really bad shape, she hops on a plane home to Canada.
From its beginning The Flying Troutmans evokes Tolstoy's famous line "All happy families are alike; each unhappy family is unhappy in its own way." The Troutmans take top honors for truly unique dysfunction. Min's perennial suicidal tendencies have landed her in a psych ward. Hattie takes Logan and Thebes on a North American odyssey to find their father, Cherkis. Glitter-encrusted Thebes creates giant novelty checks, sculptures from mannequin parts and paper kites from her nest of art supplies in the back of the van. In the face of total family meltdown, Logan retreats into brooding silence and basketball obsession. Toews draws her four central characters – Hattie, Thebes, Logan and Min – with brilliant dialogue, spare description, and a vibrant humor that makes the horrifying somehow bearable.
Besides being an immensely funny travelogue, The Flying Troutmans confronts the serious havoc wrought on a family by severe depression. Min chased off Cherkis weeks after Thebes was born, and she has spent much of her life alternating between nearly killing herself and nearly killing her sister. The Troutmans are a mess, but a particularly modern mess – sympathetic, resilient, adaptable. A happy ending seems not just unlikely, but laughable. In spite of numerous complications and missed connections, Logan, Thebes and Hattie persevere in imperfect, lovely ways. Even Min has moments of grace:
In the world of children, Min was a genius, she could navigate it in her sleep. She could read book after book to them, sing song after song, soothe them for hours, tenderly and humorously cajole them out of their tantrums … She had conceived them, given birth to them and nursed them into life. But out there, in that other world, she was continually crashing into things. (175-6)
Min wants to be a good mother, but her psychosis cripples her ability to care for her children. Logan and Thebes have long played adult to their mercurial mother, and now their young, emotionally indecisive aunt. Toews keeps her readers hoping for the adults to recognize the fragility of Logan and Thebes' self-sufficiency and the siblings' longing for permission to be the kids they are.
A recurring motif is Thebes' refusal to bathe. Her purple hair becomes increasingly matted, her face food- and glitter-covered, her clothes filthy. In Moab, Utah, Hattie takes Thebes clothes shopping. They banter through the dressing room door until Thebes "burst out of the change room, all in white, all Hi ho, Silver away!" Hattie ends up buying Thebes a white double-breasted suit, shirt, vest and tie, likening her niece to Herve Villechaize and Tom Wolfe. It's a ridiculous, impractical choice for the deliriously unkempt Thebes that Hattie handles wonderfully:
What do you think? [Thebes] asked. She spun around and did a few jumping jacks. She teetered around like Chaplin, twirling an imaginary cane.

You just … I don't know … You're beautiful, though. Definitely. (166)
Miriam Toews pulls it off just as brilliantly: one hot mess of a family, but a book so enchanting it's hard to tear your eyes away from the page.
For Further Reading
Interviews with Miriam Toews from Powell's and Bookslut.