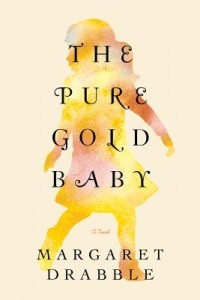 Dame Margaret Drabble's seventeenth novel, The Pure Gold Baby (Houghton Mifflin Harcourt), appears after a nine-year hiatus; the author declared after completing The Red Queen (Harcourt, 2004) that she would not undertake the arduous work of writing a novel ever again. In the ensuing interval a collection of her stories, A Day in the Life of a Smiling Woman (Houghton Mifflin Harcourt, 2011), and a memoir, The Pattern in the Carpet: A Personal History with Jigsaws (Houghton Mifflin Harcourt, 2009), were published. But it is good news that Drabble apparently could not resist another novel. The real estate in North London Drabble-land has appreciated and her cast of bohemian academics has aged over the fifty years since her first novel, A Summer Bird Cage (Weidenfeld & Nicolson, 1963), but she's back, in fine form.
Living in London in the mid-seventies, an outsider, lonely, disconnected and dislocated, I discovered the Drabble shelf in my neighborhood library. I read every volume and recognized my neighbors—people who seemed both familiar and strange to me about whom I was intensely curious. Then as now, Drabble wrote about her tribe but with the eye of a professional observer, a cultural anthropologist studying her own. And indeed, many of her heroines are actually anthropologists with past experience in Africa, including the protagonist of this book, Jessica Speight. Jess wrote her PhD thesis on African children with a congenital birth defect, but since her own daughter's birth has remained in England, editing and writing for academic journals. Her avocation is "North London anthropologist," close observer of kinship and friendship among her long-time neighbors, especially the relationships between mothers and children.
The focus of her attention, and the subject of the novel, is Jess's relationship with her own daughter Anna: the "pure gold baby" of the book's title, the unexpected fruit of an ill-advised, short-lived affair. Anna, a beautiful calm baby, has grown into a beautiful calm woman, but the pure gold baby proved to be profoundly developmentally disabled, although at the time of her birth Jess and her friends naively "did not consider [themselves] held in the genetic trap." As she says, "We thought each infant was born pure and new and holy: a gold baby, a luminous lamb."
Her range is limited, but Anna has emotional capacity; hearing sad stories make her cry, happy endings please her. But though she listens to Dickens' Great Expectations, Anna has no expectations for herself beyond the moment, and will never even be able to read—a tragedy in this literate community. Anna will always need care and protection. She will always need someone to interpret the world for her. The Pure Gold Baby explores "the constant ache" of Jess's love, grief, and concern for her daughter, "…the apple of her eye and the thorn in her heart."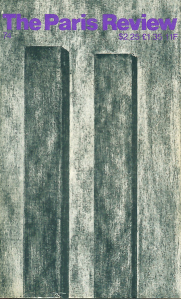 Jess's life was changed and defined by the random accident of Anna's birth and disability. Loving Anna, and reckoning with societal attitudes toward disability, has become Jess's passion. Drabble was once criticized by John Updike in a 1976 review in the New Yorker for being too dependent on coincidence, but isn't that how life works? Events and coincidences can have transformative consequences. Drabble addresses this very topic just two years later, speaking with Barbara Milton in the Fall-Winter 1978 issue of the Paris Review. Of the role that coincidence plays in her larger project as a writer she says she tries "to work out the relationship between coincidence and plan…if you were to get high enough up above our world, you would see things that look like coincidence are…part of the plan…I have a need to perceive pattern in coincidence." No wonder she loves to complete the jigsaw puzzles that inspired her memoir. This novel, too, is a careful jigsaw of interlocking people and circumstance; patterns emerge from connection and coincidence in an authentic manner like the determinative chance events in any life. The narrative flashes back and forth in time, in episodic but connected passages of memory and current experience.
Drabble, a self-described depressive, claims (with the subtle humor that enlivens the minor key of her work) that she writes to evade boredom. But like her revered George Eliot, she believes that the purpose of novels is to explore and illuminate what one sees in the world, and recognizes authorial obligation as "a moral concept." With The Pure Gold Baby she appears to set herself very intentional artistic and moral challenges for exploration and illumination first identified much earlier in her career. In the same Paris Review interview mentioned above, she said she had not succeeded in writing about "good mothers," and that "stupid people" were not interesting. Now, thirty-five years later, she attempts to address this double difficulty: the story of a good mother and a beloved intellectually limited daughter. Jess observes that Anna's life has "no plot" compared to the "melodrama" of a neighborhood boy gone spectacularly bad; Anna's condition is "not very interesting" in contrast to that of a suicidal friend. But out of quiet lives, familial love, and Jess's muted, chronic grief, Drabble creates deeply sympathetic characters. Jess is engaged in a marathon endurance test requiring loyalty and unglamorous heroism; this is the engaging story of a golden, flawed daughter and a good mother.
The author sets herself a third challenge by choosing an omniscient narrator to tell Jess's story retrospectively. Eleanor, one of Jess's neighbors and lifelong friends, observes and comments both from a close distance, and also at times with "a wider view, an aerial view." Drabble has experimented with viewpoint and voice since the beginning of her career. When pregnancy sidelined her from working as an actress, she wrote her debut novel A Summer Bird-Cage by "accident" (or fortunate coincidence), "day after day…like a long letter…no conscious sense of form or plot," again according to the aforementioned Paris Review conversation. With her sixth novel, The Needle's Eye (Weidenfeld & Nicolson, 1972), her technical intentionality and control had developed and she could achieve what she'd "always wanted, which was to write a third-person novel with point of view spread among various characters."
Now, forty years practice and ten novels later, The Pure Gold Baby's omniscient first-person narrator's affectionate, detached voice often dissolves and fades into Jess's point of view. But always, Eleanor returns to provide dispassionate authorial comment and, despite Drabble's exquisite technical control, the narrator's stately, cerebral tone is at times problematic. As Eleanor herself observes:
We listened to Jess, we offered comfort, but we could not share her grief. It was hers alone. We can feel for one another, but we cannot partake.
Exactly the reader's difficulty—like the narrator we are elevated observers above the field, blocked from a more immediate experience of Jess's inner life.
Perhaps the above dissatisfaction reflects individual taste and sensibility. Full disclosure: I've read every Drabble novel, but my favorites are the early ones. Though less technically complex, I find them more emotionally powerful. Writing this review, I turned to my bookshelf and discovered the only Drabble I still own are dog-eared paperback editions of her earlier novels. She kept writing, and I kept reading, but I stopped keeping and re-reading after The Realms of Gold (1975). Her first more character-driven work offers a warm specificity, an immediacy lacking in the later, cooler work with its heavier freight of theme, philosophy, and politics. But this departure represents another deliberate authorial choice. Drabble intentionally aims to emulate her mentor Doris Lessing; her characters' dilemmas and passions represent issues the author deeply cares about. For Drabble, character and theme conjoin. Once more from the Paris Review interview: "You look at people and realize they're all part of some theme, whether they like it or not." Throughout her work, Drabble consistently explores the problem of "free will and choice and determinism," choosing to illuminate what she believes is our "very small area of free choice."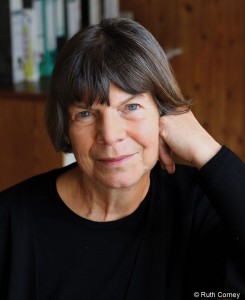 Happily, The Pure Gold Baby is a fair balance of character and theme, an intriguing re-evaluation of familiar Drabble characters and their geographic and moral territory. Drabble most directly invokes and reprises The Millstone (Weidenfeld & Nicolson, 1965), her third novel, also a story of a single mother with a child who unexpectedly changes her life. Upon learning of Anna's diagnosis, Jess weeps as she walks home, considering Anna as "a millstone, an everlasting burden, a pure gold baby, a precious cargo to carry all the slow way through life to its distant and as yet unimaginable bourne on the shores of the shining lake." Where The Millstone ends with the child still an infant, and the mother still a novice parent, here Drabble covers more than thirty years as Jess and Anna make their slow way through life, approaching the unimaginable end. The earlier novel is a story of lost innocence and the beginning of experience; this is a story of experience intertwined with innocence, of moving forward and circling back, of coming of age in a deeper sense—not just innocence encountering experience, but a gradual reckoning with aging and mortality. As an exemplar, Rodin's sculpture of an elderly woman has "haunted" the narrator since she first saw La Belle Heaulmière when she was seventeen. Now Eleanor says, "mortality was much on my mind" and the statue appears throughout the book like a leitmotif. Everyone—and everything—in these pages ages, even household objects. Drabble always has a keen eye for the revealing, resonant domestic detail. During a crisis, Eleanor brings Jess a wilted bunch of anemones for "the little green-and-white-striped jug on the mantelpiece, which stood amongst the African rain-maker's stones, and the figures, and birds' eggs and tarnished silver candlesticks." The narrator continues, saying:
I love that little jug…I have known it for many years. It's hand-painted, clay, irregularly striped…Jess says you can stick a handful of anything in there and it will fall of its own accord into a perfect shape…it had been broken once, it had been knocked over by Anna…but Jess had glued it together…It was the more beautiful for the cracks and the chips and the patching and the marks of age.
The value-added beauty achieved through age, experience, and the acceptance of imperfection is Drabble's subject here. Like The Velveteen Rabbit (a nursery story that doubtless would make Anna cry), this is a story about the chastening and burnishing effects of experience and love.
In conclusion, the narrator Eleanor says, "I'm older now than I was when I started writing this record," as Drabble herself is older than the bright new talent who wrote The Millstone. This is the work of a mature novelist who understands the long view and the long game. It is a story of coming fully of age, of reckoning with fragility and strength, of recognizing what matters, of accepting what lasts and what ends.
---
Further Links and Resources:
---