Argentine writer Eduardo Sacheri published four best-selling short story collections (how often do you encounter those last five words in sequence?) before The Secret in Their Eyes (Other Press), his first novel, but most U.S. readers may be unfamiliar with his fiction. Many will decide to pick it up for the same reason I did: they were moved and haunted by El secreto de sus ojos, its fantastic Academy Award-winning film adaptation. Sacheri collaborated on the screenplay, so it's fair to bring the film into this discussion—later. The strengths of Sacheri's novel differ from those of the film.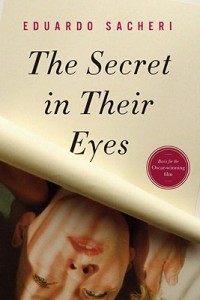 The novel's protagonist, Benjamín Chaparro, is essentially a bureaucrat in the Argentine judiciary: a deputy clerk and chief administrator of its investigative court in Buenos Aires. The novel opens sometime in the early nineties. Chaparro is about to retire and begin writing a manuscript of his own. Ostensibly it's about a man named Ricardo Morales, whose young wife was the victim of a horrific rape and murder twenty-five years before.
Sacheri has said that "writing is a special way to read," and here Chaparro's writing constitutes a close reading of—even as it's mixed with the feeling he's tampering with—the experiences implicating a group of characters. Included in his account are his alcoholic but cunning assistant and best friend Pablo Sandoval; Irene Hornos, a court judge and the woman Chaparro has secretly loved for nearly thirty years; the crime victim, Liliana Colotto, and her widower, Ricardo Morales; and Isidoro Gómez, Liliana's attacker turned henchman for the Argentine government. Chaparro's tone is by turns ironic, self-deprecating, questioning, and sincere.
Through both chance and disposition, the crime makes Chaparro a sort of unwilling detective. The Secret'splot employs the familiar patterns of a mystery or detective novel. Sacheri, who also teaches high school and university-level history and economics, is interested in literature that is preoccupied with ordinary lives but also grapples with socio-political, historical, and philosophical questions. In a recent interview, he articulated a belief that literature's complexity should emanate from the multiplicity of contacts it allows the reader—with other reading, with his or her own interiority, with that of other people:
At times I've seemed to notice that for some, the most laudable form of complexity is opacity… An author who contemplates his navel and a reader condemned to the contemplation of some other person's navel. I'll sound unforgivably profane, but that concept doesn't satisfy me. Not as an author and not as a reader.
The detective/mystery plot serves Sacheri's position well. I think of Roberto Bolaño, Julio Cortázar (Sacheri cites his earlier work as a major influence), and even Alice Munro as other writers who have used the popular form masterfully as a way to engage with rigorous ideas and create rich, complex experiences in the mind of the reader. Sacheri's novel experiments in this way with tone rather than form. Some scenes have a madcap, schmaltzy quality—as when Chaparro and Sandoval collaborate to trick an uppity judge into signing off on some court documents—reminiscent of the most satisfying TV comedy writing. These moments are entertaining to read, and they also serve to fully render character and illuminate the weaknesses of the court system through humor. In this way, the novel indeed plays with form differently than both traditional detective novels and its film adaptation.
The book's complex structures are a strength, serving its particular themes. In an author's note, the mention of "the bloody Argentina of the 1970s, which occasionally appears as the background of the story narrated here" strikes me as a sardonic understatement. Chaparro picks up on a photographic clue that helps identify Isidoro Gómez as a suspect, and his comment that "…I've always liked looking at things a little sidelong, focusing on the background instead of the foreground," points us to a way of looking at the novel as a whole; its historical "background" is equally significant.
In the film adaptation, the period surrounding Argentina's Cámpora government and its Dirty War indeed functions as a menacing, all-pervasive backdrop. In the novel, John Cullen's translator's note provides critical information for readers who come to the book without knowledge of this time period, providing explanations like the following:
[A] time of great turbulence in Argentina culminated in the so-called Guerra Sucia, the Dirty War, which lasted from 1976 to 1983. During these years, Argentina was the chief sponsor of massive and systematic political violence, whose victims included…students, activists, trade unionists, teachers, journalists, and leftists in general. In such an unstable and dangerous environment, even the basically apolitical Chaparro is at risk.
This environment transcends setting to become both structural enclosure and subject matter. It has a direct impact on the court system where Chapparo works as well as the crime's ultimate consequences for Morales, Gómez, and Chapparo himself.
The complex hierarchies of the court judicial system and the labyrinthine vault where cold case files are archived are Borgesian labyrinths where power, guilt, and accountability are distributed and refracted between people and the systems that bind them together. Indeed, Chaparro often struggles with the shady boundary between the implicit and the complicit. He frequently calls attention to the way personal attitudes and actions—often his own—can incriminate individuals. "We're all cowards, it's just a question of who frightens us enough," he reflects after finding a colleague with military connections has secured an order to suspend Liliana Colotto's murder investigation indefinitely. Chaparro wishes that the judge in charge of the case had held his corrupt colleague accountable: "My stomach turned at the thought of that son of a bitch getting away with such rank malfeasance," he says, but then admits, "but after all, I was idle and pusillanimous too, in my way…The interview with Batista left a bitter taste in my mouth. I felt somehow implicated in this injustice done to some and the sinister impunity granted to others." How are individuals implicated when systems are corrupt? What is the mechanism by which those implicated become complicit? Who is responsible for justice and punishment in the absence of a trustworthy state? How does violence at the state level breed violence between individuals?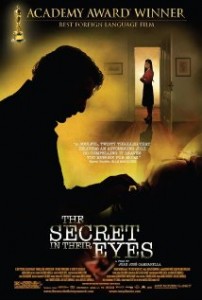 Because Sacheri was integral to the writing of the film adapation, it's interesting to consider the two works as companion texts with differing strengths. Sacheri says that his characters became more complex under the gaze of director Juan José Campanella. I agree. One example is the scene in which Chaparro interrogates murder suspect Isidoro Gómez, attempting to extract a confession. In the novel, Sandoval appears at work still drunk after a night of carousing. At first it seems that he threatens to derail Chaparro's interrogation. He throws both characters off guard when he begins a line of half-joking questioning that ends with Gómez blurting out—in pride and self-defense—that he indeed was responsible for Colotto's rape and murder. In the novel, this moment is both a repugnant and triumphant one, revealing Sandoval's brilliance (and Chaparro's doubt of him) at the same time as it reveals Gómez's insecurity.
In the film, Irene is the pivotal character in this interrogation—gorgeous, self-possessed, and very pregnant. Until this point, we're not entirely sure Isidoro Gómez is capable of the crime he's suspected of committing. His claims of innocence seem convincing. He comes off scared and timid and somewhat bewildered. But Irene surmises correctly that if he's the right one, hitting him where it hurts will cause a certain effect. She dismisses him as a viable suspect based on his lack of masculinity and strength, speculating aloud in blunt terms why surely he can't be the one. And this is finally what makes him lose it: he punches her in the face and defiantly screams his confession in the most vile and violent detail.
This use of her character and the issue of her pregnancy resonates on several levels. It creates a parallel with Liliana Colotto, who was two months pregnant at the time of her rape and murder. We rarely ever see this variant on justice: a young pregnant woman ingeniously provoking a man into an indignant declaration of guilt for a violent crime against another young pregnant woman. It's both Irene's sexuality and vulnerability in this moment that allow her to wield power—she secures the confession they need to send Gómez to jail—and modulate the accumulation and release of tension in the scene. The film's somewhat richer development of character (and by extension, plot and parallels between characters) ratchets up the emotional stakes and rings on a deeper psychological register than the novel.
But what's less visible in the film is one of the book's great strengths: the trope of the novel within the novel. Chaparro is uncertain about the whole enterprise—why he wants to tell this story, if he should be writing it, and what it's really about: "…[I]t's not my story I want to tell," he writes by way of introduction, "it's Morales's story, or Isidoro Gomez's, which is the same story but seen from the other side, or seen upside down, or something like that." His uncertainty allows readers to witness his writing as a process, and, as a result, this foregrounds the construction of the story as a whole. The novel alternates between third-person chapters narrated through Chaparro's consciousness, titled with words and phrases like "Retirement Party," "Cinema," and "Coffee;" and Chaparro's numbered, first-person-narrated manuscript chapters. These chapters are even typeset in different fonts. In "Cinema," we read that "[Chaparro]'s anxious about how to continue, how to recount what happened to those people. He wonders if that's the feeling writers have when they tell a story, a certain sense of omnipotence as they play with their characters' lives." Later:
Chaparro rereads the opening sentences of his new chapter and hesitates. Is that a good way to start this part of the story? he wonders…Can a single human action—in this case, a monumental drinking binge—be the cause that changes another's destiny, assuming that such a thing as destiny exists?
The crime that ties Chaparro to Liliana Cotorro, Ricardo Morales, and Isidro Gómez is a bloody and visceral metaphor for Sacheri's exploration of the relationship between a single human action and its consequences. The Secret of Their Eyes (originally La pregunta de sus ojos, or The Question of Their Eyes) is a supremely accessible novel and a thrilling page-turner whose most nuanced tensions lie in the relationships between its structures and characters and the questions that these pose. Sacheri says that the book is "a reflection on punishment." Readers are invited to ask, who is responsible? How are we all implicated? And how is the longing for love like the longing for justice?
---
Further Links and Resources
Learn how The Secret in Their Eyes went from novel to film in this New York Times article.
Listen to an NPR interview with director Juan José Campanella.