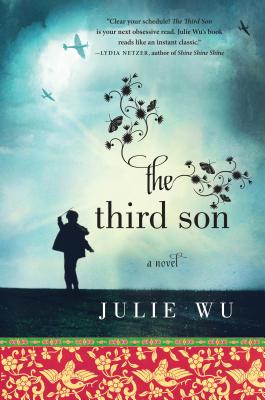 Julie Wu's debut novel, The Third Son (Algonquin), depicts the struggles of a Taiwanese boy, Saburo Tong, to escape his impoverished, cruel background and to establish a meaningful adult life for himself, a journey that takes him from poverty and oppression in Taiwan to the opportunity and relative freedom of 1950s America.
With great authority and skill, Wu depicts not just the grand events of the era, such as the the Kuomintang (KMT)'s arrival in Taiwan and the brutal occupation that followed, but also the small, private moments of life. She relays Tong's childhood attempt to catch a fish with his hands with as much attention to detail as she shows his adult awkwardness around an attractive widow in the photocopy room.
For this particular reader, it was especially pleasing to discover a novel that presents a Taiwanese point of view, delivering a sympathetic portrayal of the island through the eyes of a strong-willed, charismatic Taiwanese protagonist. I lived in Taiwan during the second Gulf War, and it was painful to see the British and American governments attempting, by force, to establish a quite imaginary democracy for Iraq, while at the same time refusing to formally acknowledge the very real and functioning democracy that exists in Taiwan. Wu's novel presents quietly and without fanfare the growing sense of Taiwan-ness that developed after the KMT's arrival; the sense, among the Taiwanese, that the island has its own character and distinct society, separate from China. Yet, while her presentation of mid-century Taiwan is suffused with a generous empathy, she makes no attempt to slip a romantic or exotic haze over the harshness of traditional life in that time.
I admired, too, Wu's dedication to storytelling. Despite the substantial background information given on Taiwanese politics, on the US-Soviet space race, and even on American PhD exam procedures, the novel is continuously fast-paced. All that background is woven into Tong's own story, and it was refreshing to read a novel with no desire to offer a three-page digression on the precise shade and smell of simmering tofu. At one early point, Tong remarks that he would rather gaze at the sky than study; Wu wisely avoids temptation to actually describe the sky—we just keep moving.
The Third Son, chapter by chapter, is an excellent read. Tong is constantly facing new setbacks and upsets, and it's easy to feel sympathy for such a well-meaning, poorly-treated protagonist. However, telling a story that spans a protagonist's entire childhood and adult life inevitably involves significant technical challenges, ones that even the most seasoned of writers would grapple with, and Wu's first novel occasionally stumbles. It can be difficult, for instance, to fashion a meaningful plot out of an entire life's many encounters—to use those encounters to present a character with recurring, escalating, increasingly incompatible choices.
It's one thing to feel the slight absence of this sort of developmental plot construction in a book, but harder to describe what it is. I mean something like this: if a protagonist merely has to overcome obstacles that stand in the way of his ideals, then a novel can feel a little episodic, one problem overcome after another. Although, through those trials, the protagonist is "learning" things about the larger world, he is not, at the same time, gaining deeper knowledge about his own desires, his own ideals, his aspirations. The tools of plot are necessary, therefore, in order to put a protagonist into situations where his original goals start to oppose each other, and he must choose between them. Because when that internal kind of "learning" isn't happening, a novel, no matter how eventful, can feel a little static. In Great Expectations, for instance, Pip starts the novel believing that if he can enter the high society of Miss Havisham's mansion, he will be happy—the drama comes from his slow, painful process of discovering otherwise.
Such complex plotting, of course, is a lot to ask from a debut novel. One learns by doing—the only way to learn how to write a novel is by writing a novel. So my reservations about the plotting of The Third Son are small when compared to Wu's obvious talent and meticulous research, as well as the quite amazing warm-heartedness that pervades the book. The final chapters, too, will likely feel excruciatingly accurate for anyone who has much experience with that uniquely difficult cultural institution, the Chinese family. It made me first wince, then smile, ruefully, in recognition.
The Third Son should be the start of a very successful writing career for Julie Wu, and I hope she will not need long to write her next novel—I'm excited to read it.
---
Links and Resources: