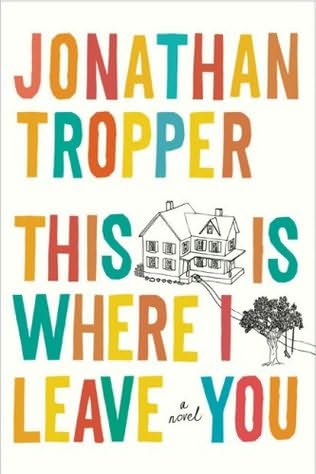 In his latest novel, This is Where I Leave You (paperback: Plume, July 2010), Jonathan Tropper mines the hilarity from dysfunction in a belated coming-of-age story.
After patriarch Mort Foxman passes away, the Foxman clan is forced to sit through what might be the craziest shiva of all time. Narrating this mess of mourning is Judd Foxman, a sad sack with a great comic voice. Just before his father's death, Judd came home with a birthday cake for his wife, only to find her "lying spread-eagle on the bed, with some guy's wide, doughy ass hovering above her." The fact that "some guy" is Judd's radio-shock-jock boss doesn't stop Judd from attacking with "a chocolate-strawberry cheesecake with thirty-three burning candles."
This forces his marriage to end "the way things do: with paramedics and cheesecake."
Alone and resentful, newly single Judd returns to his childhood home in Knob's End, New York. Even though his father was not religious, Mort's dying wish was that his family would reunite to sit shiva for a full week. This family includes: Inappropriate Mom, a bestselling author on child rearing, who favors too-revealing blouses; Phillip, the baby of the family, who dates a cougar therapist; Wendy, the oldest sister, who's raising three kids in a sexless marriage; and Paul, the oldest brother, who lost his college baseball scholarship after a Rottweiler incident. Presiding over the shiva is family friend Boner, a young rabbi trying to make Judaism cool by wearing Armani suits and diamond studs.
Over the course of the shiva, the brothers give each other black eyes, Judd realizes his adulterous wife is pregnant, and his mother begins an affair with the woman who lives across the street. Some twists and gags are a bit far-fetched—smoking a joint in temple, the brothers cause the sprinklers to turn on—and the author's need for each character to reach a meaningful epiphany feels forced. But overall, this novel and its narrator's voice are so smart and funny, they make its flaws seem negligible.
In one of Tropper's finest (and most brutal) passages, Judd slams the parade of shiva callers coming through the doors:
"These middle-aged women in the early stages of disrepair…genetics help some more than others, but they are all like melting ice cream bars, slowly sliding down the stick as they come apart."
Judd's observations might seem cruel, but they are also startlingly specific, keenly true.
The novel's real triumph is in transcending mere laugh-out-loud moments with the poignancy of Judd's descriptions. Seeing (and mocking) others, he can't help but examine himself. He grapples with questions of his own mortality and options: what should he do next? He loved his wife and was good to her, but still their marriage disintegrated. Like the rest of the Foxman clan, he's not where he thought or hoped he would be as middle age approaches. But by the book's end, Judd realizes that "anything can happen," that the future isn't mapped out. That it wouldn't be interesting if it were. And if there's an epiphany worth believing in, it's Judd's: Even (and especially) after a swinging bout of dysfunction, even if you can't stand the sight of your family, deep down you know, you can always go home.
Further Resources
– Via the New York Times, read an excerpt from This is Where I Leave You.
– Listen to today's interview (8-25-2010) with Jonathan Tropper on WAMC.
– In this Penguin video, Tropper introduces his latest novel and discusses the challenge of "setting an entire novel in the framework of seven days":
– Watch and read an interview and Q&A with Tropper at Bookbrowse. And here's a feature/interview with Tropper in TimeOut New York.
– Over drinks at Brooklyn Public House, Asylum editor Anthony Layser talks with Tropper about This Is Where I Leave You. Does Tropper have a Matthew McConaughey clause protecting his book from sappy romantic comedy adaptations? Is his description of getting kicked in the balls the best of its literary kind? Watch and learn…

– Find out more about Tropper's other books on his website: How to Talk to a Widower, Everything Changes, The Book of Joe, and Plan B.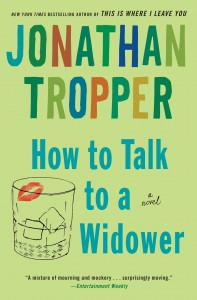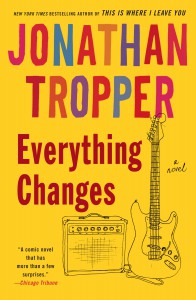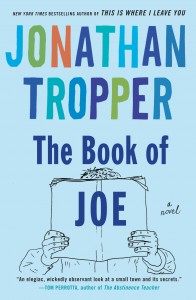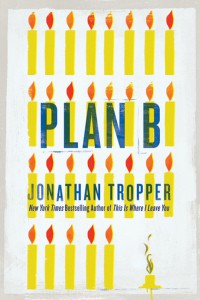 – Browse excerpts from The Book of Joe on Random House's website.