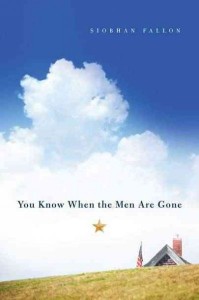 If you've ever been on the "left behind" end of a long-term separation, every word of Siobhan Fallon's brave new story collection, You Know When the Men Are Gone (Amy Einhorn Books, Jan 2011) will resonate in a way that is simultaneously painful and validating. Set in Fort Hood, Texas, Fallon writes with alarming honesty about the often-overlooked but very real war taking place not in Iraq and Afghanistan, but on American soil: the American military family's fight to survive deployment and reintegration. Fallon knows her subject from personal experience; she lived at Fort Hood during the two tours of duty her husband served in Iraq.
Through loosely linked stories about the spouses and families of men attached to the First Cavalry division, Fallon's debut lends insight into the stages of deployment and reunion and the unavoidable repercussions these situations can cause. One of the many strengths of the collection is Fallon's exploration of both soldier and spouse points of view, the stories shifting from homefront to battlefield, loyalty to infidelity, where the distinction from one to the other is often difficult to make.
In the first and title story, "You Know When the Men Are Gone," Meg Brady illuminates the lonely and worrisome world of the faithful wife who tries not to see similarities between the raw animal flesh in the meat aisle at the commissary and the soldiers who've been mutilated in the war, knowing it could be her husband any minute.
[Meg] wanted to worry about ordinary things like whether her husband forgot his lunch or got a bonus, not that he might get shot or that he'd be crossing a street in Baghdad and never get to the other side. She carried her worry night and day.
When Meg becomes obsessed with the unorthodox "milspouse" lifestyle of her glamorous Serbian neighbor, Natalya, it's a welcome distraction from her fear and the "interminable waiting, waiting, waiting for her life to continue – such a long gray nothingness between departure and return."
There are other wives dealing with other pain. Kailani Rodriguez can't ignore an email that could prove her deployed husband is having an affair. Ellen Roddy, struggles to keep her breast cancer in remission while facing guilt over the fact that her husband was "allowed" to avoid deployment because of her condition. "There was something unseemly about John being home when all the other husbands were not," Fallon writes, "in this world of camouflage and guns and absent but heroic fathers, despite his Ranger tab, Combat Infantry patch, and Bronze Star, [being home indicated he] was not man enough to go to war." What makes the demands of military life bearable for the families is the shared experience, and without the common "deployed family member" status to connect them to the other families of her husband's company, Ellen and her children are left feeling isolated and ashamed.
In "You Survived the War, Now Survive the Homecoming," Carla Wolenski finds that her husband's return and learning to live with him post-war is the real challenge. She wonders,
Who was this man in her living room? This stranger who put [her] through the roughest year of her life while he was in another country, then continued to tear everything apart when he returned? She didn't want a man with memories that made him shout at a television set, flinch in his sleep, kick strollers.
Her husband's anger and harsh behavior may not be clinical Post Traumatic Stress Disorder, but they threatens the quiet, uneventful world Carla has shared with their baby daughter while he has been gone, and makes her question what she's willing to tolerate courtesy of the United States Army.
Fallon also offers a glimpse of every milspouse's greatest fear in the final story, "Gold Star". Josie Schaeffer is not yet out of her twenties and is a widow; her husband killed by an IED that also injured Kit Murphy, another of Fallon's main characters. In an achingly poignant moment while Kit, whose life was saved by Josie's husband, is visiting her, she sits down in his lap, like she used to with her husband.
Josie held on, the camouflage material swimming in front of her eyes…knowing this man was not her husband, that her husband was never coming back, but for now she was as close to him as she could get and she would not let him go.
Neither of them will easily, if ever, get past what has brought them together or what the war has taken from them. The resounding theme of Fallon's collection is that war takes something from everyone involved, even those who don't make the ultimate sacrifice.
In lyrical prose that lends beauty to even the bleakest situations, Fallon lets readers into a secret world of perfectly manicured lawns, tight-knit Family Readiness Groups, and the daily observance of the retreat playing on loudspeakers throughout the base. Within this waiting community of families reigns quiet desperation and a determination to endure. Fallon's stories illustrate the fear and grief, heroism and bitter disappointment, all happening just outside the city limits of those other American homes, the ones untouched by the tragedies and hardships of a decade-long war.
As a fellow military wife, I hope You Know When the Men Are Gone will pave the way for more literature from family members who've lived through modern war in its unprecedented form. Outside the armed services, the general population has little understanding of the stress of repeated deployments, caring for severely wounded service members, the ravages that PTSD can take on a family, or the financial strain. In You Know When the Men Are Gone, Siobhan Fallon not only gives a voice to the largely unheard military spouse, but also invites the uninitiated to the table to consider the impact of war, and to share, even if just for the time it takes to read the book, the burden of these families.
Further Links and Resources