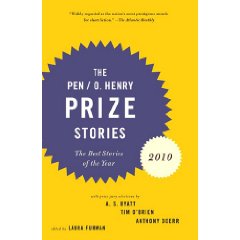 The official list for the 2010 Pen/O. Henry Prize winners was released recently and we are pleased to announce that two FWR Contributors will have work in this year's anthology: Natalie Bakopoulos, whose story "Fresco, Byzantine" was published in the Fall 2008 issue of Tin House, and Preeta Samarasan, whose story "Birch Memorial" was published in Issue 6 of A Public Space. Congratulations!
The anthology, which is edited by Laura Furman, features Junot Díaz, Yiyun Li, and Paula Fox as this year's prize jury. Here is the complete list of authors and selected stories:
"Them Old Cowboy Songs"
Annie Proulx
"Clothed, Female Figure"
Kirstin Allio
"The Headstrong Historian"
Chimamanda Ngozi Adichie
"Stand By Me"
Wendell Berry
"Sheep May Safely Graze"
Jess Row
"Birch Memorial"
Preeta Samarasan
"Visitation"
Brad Watson
"The Woman of the House"
William Trevor
"The Bridge"
Daniel Alarcón
"A Spoiled Man"
Daniyal Mueenuddin
"Oh, Death"
James Lasdun
"Fresco, Byzantine"
Natalie Bakopoulos
"The End of My Life in New York"
Peter Cameron
"Obit"
Ted Sanders
"The Lover"
Damon Galgut
"An East Egg Update"
George Bradley
"Into the Gorge"
Ron Rash
"Microstories"
John Edgar Wideman
"Some Women"
Alice Munro
"Making Good"
Lore Segal
For author interviews, photos, and more, go to www.ohenryprizestories.com
Congratulations again to this year's winners!