Editor's Note: All this week we'll continue posting micro-portraits and/or interesting news about this year's 2013 presenters at The State of the Book Literary Symposium, which will take place in Ann Arbor on Saturday, September 28, in Rackham Auditorium. All events are free and open to the public. For a complete schedule or list of presenters, please check out the State of the Book Website. Thank you!
---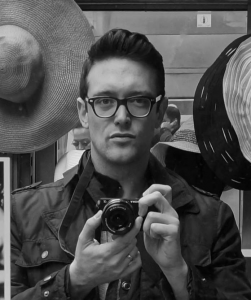 Lit-man Robert James Russell comes to us as the co-founding editor of the literary journal Midwestern Gothic and author of Pushcart Prize nominated Sea of Trees (Winter Goose Publishing, 2012). On September 28 from 4:30 to 5:45 in Rackham Auditorium, Russell takes the stage as moderator to discuss historical and speculative writing with novelist Ariel Djanikian, playwright, poet, and novelist Bill Harris, and poet Gerry LaFemina.
We caught up with him and asked him about his most favorite works of historical and speculative writing.
True History of the Kelly Gang (Peter Carey) — Because I have a thing for outlaw-related fiction, apparently this too is at the top of my list. Mr. Carey's brilliant take on the Ned Kelly mythos is a sublime read, with language so twisty-turny you can't help but find yourself fully-immersed in his tale. And regardless of how you feel about the bush-ranging folk hero, the story balances perfectly his life, Australian history, family, and the idea of moral ambiguity in Robin Hood-esque persons.

Brave New World (Aldus Huxley) — While most of my friends were reading The Hobbit or the Lord of the Rings Trilogy or Ender's Game, this was my introduction into speculative fiction, a book that's stuck with me ever since. As I've re-read the book as I've gotten older, I realize that it's a fairly simple tale, but a powerful one that doles out equal parts discussion on our dependency on technology, consumerism, and too much government regulation. A classic for good reason.
Check out Midwestern Gothic and Sea of Trees.