Editor's Note: For the next two weeks we'll be posting micro-portraits and/or interesting news about this year's 2013 presenters at The State of the Book Literary Symposium, which will take place in Ann Arbor on Saturday, September 28, in Rackham Auditorium. All events are free and open to the public. For a complete schedule or list of presenters, please check out the State of the Book Website. Thank you!
---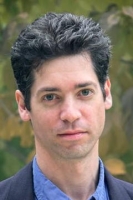 Jonathan Cohn, accomplished journalist, author, and United States healthcare policy expert, hails from South Florida, but now that he lives in Ann Arbor he hails to the Victors Valiant. In addition to contributing as a senior editor at the New Republic, his work has appeared in the Atlantic, Mother Jones, Rolling Stone, Slate, and New York Times Magazine. His timely 2008 book Sick: The Untold Story of America's Health Care Crisis—and the People Who Pay the Price shows how the financial structure of the American medical care system regulates who gets proper medical attention—and who doesn't.
On Saturday September 28 from 1:30pm-2:45pm, in a segment entitled The Art of Fact, Cohn will join fellow essayists Janet Kauffman and Christine Montross on stage to talk with novelist and nonficiton writer Eileen Pollack about crafting nonfiction.
Follow Cohn's commentary on healthcare and labor rights at the New Republic.