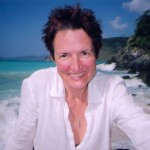 Earlier this fall, FWR contributor Sarah Van Arsdale was in residence at the Djerassi Resident Artists Program in the Santa Cruz mountains. While there, she collaborated with filmmaker Peter Gossweiler on a short video titled Bone on Bone. Sarah calls it "the story of one hapless human's encounter with modern medicine." Readers of Sarah's recent essay "Hobbling Up The Magic Mountain" will recognize her wonderful illustrations. The wit and humor of her voice as a writer are here again too, highlighted even more so by the fact that Sarah narrates the piece (via Vimeo):
The next application deadline for the Djerassi Resident Artists Program is February 15, 2010. For detailed information, visit their website; below is a short description of the residency award:
Residencies are awarded competitively, at no cost, to national and international artists in the disciplines of choreography, literature, music composition, visual arts, and media arts/new genres. We seek applications from emerging and mid-career artists, for whom appointments as resident artists may make a significant difference to their careers, as well as from established artists with national and/or international reputations. Applicants are evaluated by panels of arts professionals in each category. Those selected are offered living and studio space for four to five week sessions during the season which runs from mid-March through mid-November.