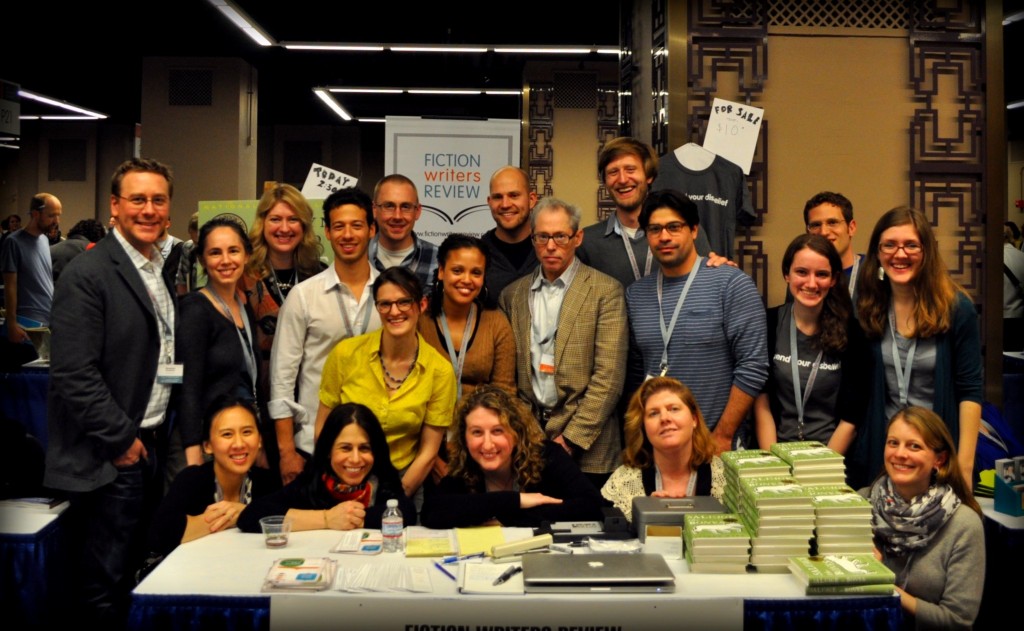 Some of our editors and contributors at AWP 2012 in Chicago
Fiction Writers Review is at AWP again this year, and we're looking forward to catching up with our friends and contributors.
Throughout the conference, you can find us in the Bookfair at Table P9 in Exhibit Hall B on the Plaza Level of the Hynes Convention Center. Come say hello!
We'll also be doing a contributor photo at the table at 4pm on Friday. We hope you'll join us!
And here's a partial list of FWR-related events:
Thursday, March 8th:
Noon – "Getting That First University Teaching Job." Contributor Liam Callanan along with Kathy Flann, Jane Delury, Lizzie Skurnick, and Jehanne Dubrow explore strategies that can "push a resume to the top of the pile." (Room 110, Plaza Level)
3pm – "All the Young Dudes: A Reading from Four Debut Collections." Contributor Eugene Cross reads along with Jared Yates Sexton, Andrew Scott, and Jensen Beach. (Room 105, Plaza Level)
Friday, March 9th:
1:30: "Making the Case for Community Outreach / Service as a Part of the MFA Experience." Contributor Nina Buckless with Eric Heald-Webb, Jessica Kinnison, Dora Malech, and Amana C. Katora. (Room 200, Level 2)
Saturday, March 10th:
9am – "From Here, From Away." Contributing Editor Joshua Bodwell with Ron Currie, Lily King, Sarah Braunstein, and Lewis Robinson on the legacy (and future) of the many great writers who have called Maine home. (Room 104, Plaza Level)
Noon – "Creative Writing Under Siege: Setting the Record Straight." Contributors Stephanie Vanderslice and Anna Leahy join Dianne Donnelly, Tom C Hunley, and Tim Mayers for a conversation on what responsibilities those within the field might have (or not) to "demythologize and demystify creative writing to the public." (Room 309, Level 3)
Contributors, if we missed your event, let us know in the comments below, and we'll add it to the list!