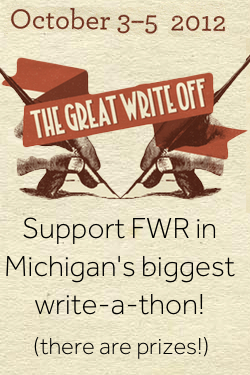 Fiction Writers Review's first-ever fundraiser, The Great Write Off, is starting TODAY! It's not too late to help. You can sign up to write on FWR's team or make a donation yourself (even $5 goes a long way). Proceeds will go to a revamped website and to pay our all-volunteer staff and contributors.
Need more incentives? How about PRIZES?
Any FWR participant who raises $50 or more will get a Great Write Off T-shirt.
Any FWR participant who raises $100 or more will be eligible to win one of twenty copies of Natalie Bakopoulos's debut novel The Green Shore, generously donated by Simon & Schuster. (Read FWR's interview with Natalie here.)
The top five FWR earners will win a custom, hand-set letterpress edition of "Moon Drunk" (a numbered edition set of poems in a paper slipcase designed and manufactured by Fritz Swanson: Charles Baxter's "Please Marry Me," signed by Charles Baxter, and "Transfigured Night," by Richard Dehmel [English Translation by Stefan Kiesbye]). See the photo below–and to learn more about Fritz's process, visit the FWR blog.
Anyone who writes on behalf of FWR will also be eligible to win one of five copies of "Moon Drunk," which we'll randomly select.
Do you think you can help? Here's how more info about the fundraiser and how you can help FWR. And for those of you in Ann Arbor, don't miss The State of the Book, full of free book-related events for all.
We've said it before, but we'll say it again: THANK YOU for your support. We do it for you, but we couldn't do it without you.
Love,
The FWR Editors