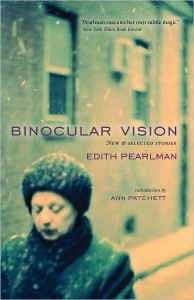 This week's featured title is Edith Pearlman's story collection Binocular Vision. The consummate short story writer, Edith Pearlman has published more than 250 works of short fiction and non-fiction over the past four decades. Her fiction has appeared in Best American Short Stories, The O. Henry Prize Stories, New Stories from the South, the Antioch Review, Ascent, the New England Review, and The Pushcart Prize Best of the Small Presses. Pearlman has written travel essays about Budapest, Tokyo and the Costwalds for the New York Times, and reflections on the allure of the roulette table, and her husband's "mistress" – his Viola da Gamba – in the Boston Globe.
In her recent review of Binocular Vision, Andrea Nolan writes:
All stories in a collection talk to one another, but some talk more than others. Pearlman returns to the same, unnamed Central American country several times, while other stories take place in Maine, Massachusetts, Israel and Europe. Through the rearranging of stories, putting "Vaquita" as the last story from Pearlman's first book, and then "Allog," as the first story from Love Amongst The Greats, so that we read the stories one after the other, we see that the soprano mentioned in "Vaquita" is living in the apartment building in Jerusalem in "Allog," and thus a binding thread is highlighted… Too often we ignore or belittle these proximal relationships, we think nothing off the other mailboxes in the apartment lobby and try to ignore our embarrassing human commonalities and frailties as we pound on the floor to get the downstairs neighbors to quiet their quarrel. Pearlman takes these connections and builds her fictional worlds around them, and in doing so, shows us what it is to be human.
To read the rest of Nolan's review of Binocular Vision, click here. In it, Nolan explores how thematic resonance in Pearlman's stories has built over time, and the way the careful arrangement of the individual pieces in Binocular Vision shifts the reader's perspective like a series of refracting lenses.
You can also win one of three, signed copies of the book, which we'll be giving away next week to fans of our Facebook page. To be eligible for this week's drawing (and all future ones), please visit our Facebook Page and "like" us.
To everyone who's already a fan, thanks again! Our Facebook page exists, in part, to feature the work of great new writers and what's happening in the literary world. But our primary goal for everything we do is to put books we love in the hands of readers. Literally, in this case.
So please help us spread the word!