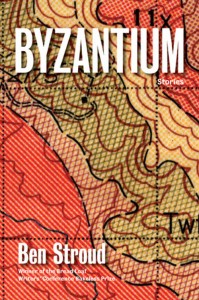 This week's feature is Ben Stroud's debut collection, Byzantium, which won the Bakeless Fiction Prize and was recently published by Graywolf. Stories in Byzantium originally appeared in such places as Harper's, Ecotone, The Boston Review, One Story, Electric Literature, and New Stories from the South. Originally from Texas, Stroud holds a BA in English and History from the University of Texas at Austin and an MFA in Fiction and a PhD in Twentieth-Century American Literature from the University of Michigan. He has received residencies from Yaddo and the MacDowell Colony, and has taught literature and creative writing at universities in the US and Germany. Currently, he is Assistant Professor of English and Creative Writing at the University of Toledo.
In the introduction to Kyle Minor's recent interview with Stroud, he writes:
Stroud is equally at ease working the large canvas and the small, the historical idiom and the contemporary, the detective story and the faux memoir.

There is an antique quality to his work, and by antique I don't mean creaky. I mean handcrafted, out of material usually deemed too expensive for today, and sturdy owing to a willingness to privilege lasting weightiness over cheap portability. His stories provide the reader with transport, and not to the vivid and continuous dream prescribed by John Gardner, but rather to the theater of the pleasures of the joltingly unfamiliar, where the previously obscured dark corners of history get the dignity of a brief moment under the hot lights in the hot room where there is no glass or screen to safely separate the audience from the rough actors. Reading Byzantium, you get the electric sense that anything could happen, that all your past experiences with fiction don't apply here, they won't help you, that you're in the presence of a writer who could hurt you badly.
We're happy to announce that we'll be giving away a copy of Byzantium to three of our Twitter followers. To be eligible for this giveaway (and all future ones), simply click over to Twitter and "follow" us (@fictionwriters).
To all of you who are already fans, thank you!
---
Further Links and Resources: