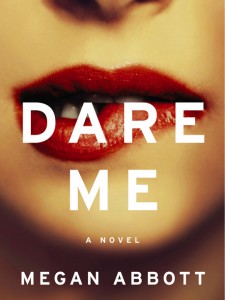 Our current feature is Megan Abbott's new novel, Dare Me, which was published earlier this year by Reagan Arthur Books. She is also the Edgar-winning author of the novels Queenpin, The Song Is You, Die a Little, Bury Me Deep, and The End of Everything. Dare Me is a crime novel set in the world of competitive high school cheerleading. It has been short-listed for the Steel Dagger Award for the Crime Writers' Association and optioned for a feature film by Fox 2000. Abbott's writing has also appeared in The New York Times, Salon, Los Angeles Times Magazine, The Believer, Los Angeles Review of Books, Detroit Noir, Best Crime and Mystery Stories of the Year, Storyglossia, Queens Noir, and The Speed Chronicles.
In William Boyle's recent interview with Abbott, the two speak about David Lynch, girls' locker rooms, haunting cheerleading message boards, and issues of writing craft. In response to a question about pacing, Abbott cites James Cain's novels as her ideal model, saying:
His books are much shorter than mine, but there's no scene that doesn't work towards the tipping point of the desire or whatever the drive is. And my books aren't that—I do have scenes that don't work towards that. But it's always been this model that the book should feel like the whisper in the ear like Cain's do. And when you're whispering something in someone's ear, there's not a lot of room for a pause.
We're giving away a copy of Dare Me to three of our Twitter followers. To be eligible for this giveaway (and all future ones), simply click over to Twitter and "follow" us (@fictionwriters).
To all of you who are already fans, thank you!
---
Further Reading